Thir13en Ghosts: Scary or Srupid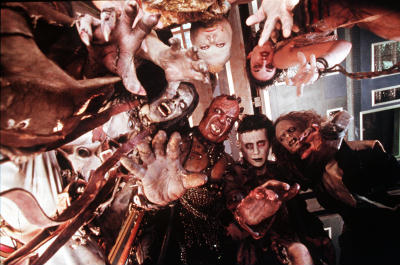 United States
June 28, 2007 9:39pm CST
When I saw the trailers for this film I didn't think that it would be all that great but after I watched it, I had to admit that the plot of it was pretty interesting. The backdrops, props and incantations on the floors, walls and ceilings were what really hooked me. So what's your take? Is it something that scared the pants off you or made you yawn?
4 responses

• United States
29 Jun 07
it was..interesting. i liked the glass wall concept-how you had to keep an eye on everything.it wasn't what i'd call truly scary though.

• United States
29 Jun 07
I screwed up on the title of this post .. I really wish we could edit them lol. I think it was an interesting flick and there were some scenes that scared the snot out of me but it certainly isn't something that would give me nightmares. Thanks for the reply!


• United States
30 Jun 07
OH....my.....Gosh! Lol. I first saw this movie on tv andd let me tell you something...it scared the living daylights out of me! One factor in that though is my 'slight' (MAJOR)fear of ghosts lol. I know...I should have stayed away after seeing the title! But I like getting scared! lol. I love horror movies. I think the only reason I didn't DIE was because my sister was watching it with me! :) lol

•
4 Jul 07
Hi Freak, I quite liked Thi13en ghosts, it wasn't particularly scary, but felt that it was a film that was done pretty well. I'm not a big film lover, so a film has to be good for me to watch it end to end and I thought it was pretty good, but if you're looking for a scary film then this isn't it.