I missed Rico Yan......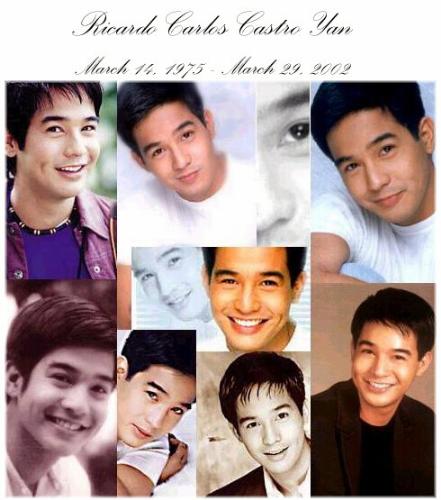 Philippines
June 29, 2007 1:29am CST
Rico Yan,one of the most loved actor here in the Phils, died last March 29, 2002 on Dos Palmas Resort in Palawan.He was starred on many movies and soap opera. His last movie was Got to Believe with his ex-girlfriend Claudine Barretto. Personally i was shocked by his sudden demise, i never expected a so called prince charming will passed away very young. Atleast he maintain to be forever young.I was hurt and so as all Filipinos. He was the role model for youth and a spokes person as well. He founded Pinoy Yan Foundation. He touched our lives by his sweet smile and for being gentlemen. He looks to have so much energy towards friendship,and love.Im an avid fan of him, eversince he was on GIMIK, one of the youth program here in the Phils. For a lady like me, he inspired me and i imagine him as my prince. The memories of him came back again to me when i had seen the Movie Gimik the Reunion on cable. As far as i know i have move on after five years, but then i was wrong, i still missed him and the pain became fresh again. I don't know what has happen to me,i wish he never die, id like to see him again...but how. I just share you my feelings about him, and i know you will feel the same way.But life has to go on, we have to accept the reality that everyone of us will leave our lives here on earth, its just that Rico's time ended fast. I love you Rico, after five years, we still remember you.
2 responses

• Philippines
29 Jun 07
Rico Yan was an icon of his own generation. He was a symbol and a role model of a disciplined youth that he was. I still remember him of his smile and could still remember of his facial cleaner commercial. It was hard to believe at that time of his unfortunate demise. He was very young. But then again, we realized that this is life. A sad part of living is dying. Rico Yan, we still remember you, boy!

• Philippines
29 Jun 07
Master Sekret ng mga gwapo!!!Hahaha, i love his dimples and chinito eyes. When can i see someone look like him....argh... Do you know Chris Tiu, the atenean cager, he got the eyes of Rico, isn't. That's why he became an endorser of Master also, hahaha.

• Philippines
29 Jun 07
I concur. You said it all. He was such a complete model for the youth.