Did you get your driving licence at the first trial itself?

India
July 3, 2007 1:14am CST
Some people find it so hard to get a license.
3 responses

• United States
3 Jul 07
I did actually get my driver's license the first time I went for it. But that doesn't mean that I wasn't scared to all get out! ha ha I think what helped was that I was 19 years old before I got my license and was able to calm myself better before the test. I had three children already...so being able to keep my wits about me was something I had already learned at that point. :) But my eldest should be taking his test come the end of summer...I wonder if he will pass.

• India
3 Jul 07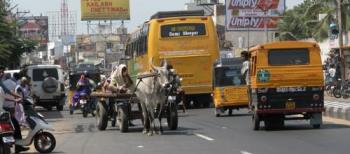 He will pass.Like mother like son will be.My best wishes for him. And here it is all money getting the license.Imagine what will happen if the driving licenses are given to the illiterate unruly chaps who have scant respect for human lives getting bribe.That is what happening here.Nobody cares about anything anymore.Everyone is so self centered I am scared in the midst of what kind of society I am leaving my daughter. See the image and imagine how I weave through this everyday.

• United States
3 Jul 07
i passed my test the first time around, no problem. at least here in the states..the questions can be tricky..so you must read them carefully. thats usually where ppl go wrong..them skim real quick thru the questions and miss a key world like "not" or something that changes the whole sentence. the test for the most part is common safety sense. study the little booklet thingy and you shouldnt have a problem. oh..and read each questions twice. that way you greatly reduce the chance of getting something wrong for the stupid reason of reading it too fast.

• India
3 Jul 07
No written test.Don't have to know traffic rules.Just start the enjine move a few yards.Voila! you get your driving license of course you grease their palm.Atrocious down here.

• United States
4 Jul 07
whoa, thats scary! i wonder what the percentage of accidents that occur are caused by ppl that just plain dont know the rules of the road?!