some houses

Egypt
July 4, 2007 7:39am CST
this is some pics about beautiful houses. i hope to have one like it .any body have house like it? and what is your home that u dream it?
3 responses

• United States
4 Jul 07
Well I did not see the pictures hat you posted. But both of my sisters do have very big beautiful houses.But they both have husbands to help them. I am on a very fixed income, and live alone, I have a older house, it is 1000 square feet. It is o.k. for me, it is not beautiful but it is cute. It is all that I will ever be able to afford. It is paid for, And I am thankful for what I have.But my dream home would be a small cottage on the beach with no yard to mow.

• Canada
17 Jul 07
my dream house has an external skin of anodized and copper painted aluminium panels and translucent fibreglass. this combination of lightweight materials is the best! set on a leafy sloping site, the property will be called the shell station. while outside the oragne and silver of the copper and aluminium dominate, it is inside that the true value of the fibreglass panlels is revealed. these prefabricated, steeklframed wind resistant panels alternate with solid wall space to act as mediators between the outside and ambient light. the effect is a muted glow, an amlost ethereal light. the house seems to be filled with lhgiht but at the same time is its solid and warm, a quilaity often lost in more hasrch glazed residential design

• Philippines
5 Jul 07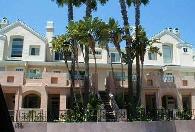 Do you see the picture I uploaded? I should want to dream to own something like it but then if I think of the trouble in the maintenance, perhaps I'd rather have a small house surrounded by a garden of flowers and trees where birds nest and chirp the whole day. I'm happy with just that.