House Plants Scream When They See Me Coming LOL

United States
July 4, 2007 10:50pm CST
I love plants. I have 6 that havent died on me yet. I need very easy to take care of plants. I tend to forget to watter them. I also have cats so I need plants that won't hurt them if they try to eat them. Do you know of any plants like that? Will You Tell me please? :)
3 responses

• United States
5 Jul 07
I have a green thumb. I have plants all over my house. The best plant for people like yourself (self-professed plant killers) ;) is one called pathos. Sorry I can't remember the biological name for it. I will do some research on this tomorrow and get back to you about it. Pathos plants can practically be abused, ignored or forgotten and will bounce back and forgive you everytime.

• United States
5 Jul 07
Is that pathos or pothos? I'm sure you'll know better than me, as I'm no expert in plants at all, but I think I may have found what you're referring to: http://en.wikipedia.org/wiki/Epipremnum_aureum

• United States
6 Jul 07
That is exactly it. Thanks for do the research. Anyone can grow it, I promise.

• United States
5 Jul 07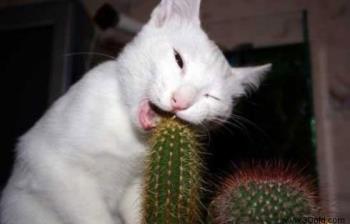 I don't know too much about plants. I know you don't want any of these, though...LOL -santuccie P.S.: Laughing at dumb jokes is still good for your health!!!

• United States
5 Jul 07
Here's something I stumbled upon while I was looking up "pathos": http://www.hgtv.com/hgtv/gl_flowers_plants/article/0,1785,HGTV_3587_1502959,00.html

• United States
5 Jul 07
Nothing's better. I can't imagine life without laughter! :P

• Malaysia
5 Jul 07
i love cats and plants.sorry i can't help you cos as much as i love 'em,i can't keep em.sorry.