this is the weather fo my city,what about yours?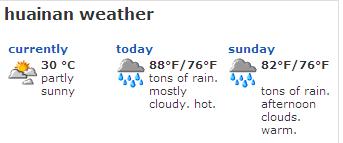 China
2 responses

• Sweden
6 Jul 07
It's warm and cloudy here, great temperature. We've had a couple of humid days, but now there's a little bit of wind and the temperature is a bit above 20C.

• United States
6 Jul 07
My city is having a heat wave. lol. It is really hot here and too stifly to move. It is hard to do anything outside. It is running in the 90's now and what makes it so bad is the humidity. This is only July and there really isn't any relief until the last part of August. I live in Illinois in the United States.