Rangoli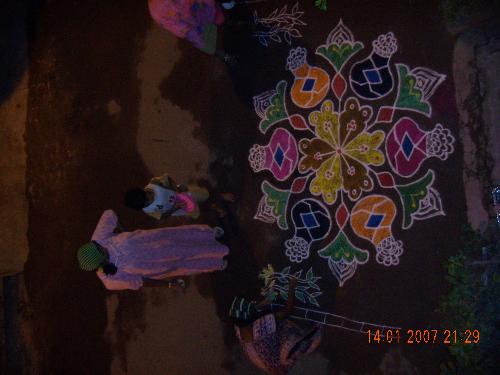 India
July 7, 2007 11:52am CST
Hey starting from mid December and ending in mid january, In Tamilnadu, we can see variety of rangoli on roads...people draw lots of waves on their entrance of their lovable home...assuming Wealth lord will come into house....But its all our ancestors had made such a great exercise practice on those cold and chill winter days. We definitely like to sleep for some more time in winter...but as we have the practice of putting kolam or rangoli in the early hours we are forced to get up early and of course its a good exercise and good for health. But now a days i see ladies do this in late night...becos its hard for working women, old ladies, patient etc .is this ok...I feel it should be early morning practice...what do you say?
2 responses

•
7 Jul 07
Its right that you should have kolam in the morning.Scientifically it is good to get up in the morning as you breath good air,kolam is a good exercise in the morning(the two finger we join to out kolam has akkupancer points and good for health,we get up and turn down is good for stomach,and mainly we join dots and maths involves in that as we think ...all these information are from good book i learned).the above things are special if we do in the morning.People who followed this at early days are active and phisical fit compared to today's women who follow this just for formalities.

• India
8 Jul 07
Thats true...we should do rangoli in the dawn....and also comparatively todays ladies are bit lagging health wise...we should change this....

• India
7 Jul 07
hey i think we should get changed to new environment...now a days we have lot of happenings for ladies in India...most of them are working, sports, so many top levels we can see them achieve a lot...may be for our satisfaction and to bring up our culture we can practise...but early mornings...ooops ..i have to think about it.But early morning practice is really good for health