Is it that milk prices have gone up this year?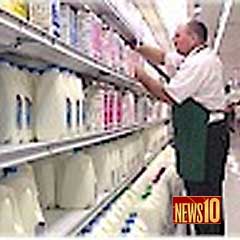 United States
July 11, 2007 6:27pm CST
In this day and age everything is becoming expensive! Imagine too with gas prices up $3.00 a gallon or more! I remember last year going to the Commissary 1 gallon of milk was $1.87, not including tax. Other union places were selling milk $2.37 a gallon. But this year, 2007, I remember the other day I went to go grocery shopping in Albertson's and seen that 1 gallon of milk went up $3.99 -- $4 for 1 gallon of milk?! And they had the never to post buy two gallons for $6.25 -- Still that's too much! How about in your area? How much is 1 gallon of milk?
2 responses

• United States
16 Jul 07
I've been paying about $4 a gallon for milk too. That adds up pretty quick considering a gallon lasts no more than two days for us. The explanation we've been getting is that it's tied to the increase in gas prices. It costs more to transport the milk from the farms to process and then from the processing/bottling plant to the stores. Also they say that because of the increase in gas prices and also the increase of corn prices due to the popularity of bio fuel technology, it's costing farmers more to produce the milk leading to higher milk prices also.

• Germany
11 Jul 07
I am in Europe. And yes, when I convert euros to dollars and liters to gallons then I pay 4 dollars a gallon. Prices here have gone up, too. It has been explained to us that the prices for the farmers have gone up and that we have to pay a lot more for milk, butter and all milk products. So, as I do not want the farmers to go broke and as I do need milk and milk products I have to buy it at the increased price. No choice. Everything has gotten very expensive lately. Happy mylotting.