My New Ink=)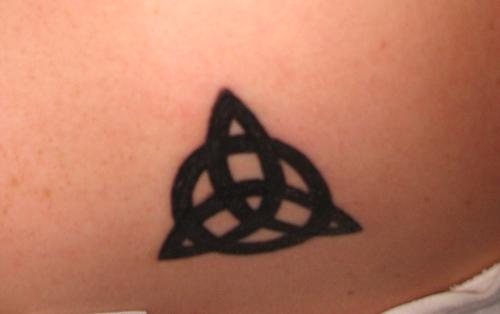 United States
July 12, 2007 5:04am CST
I just thought I would show everyone my newest permanent addition to my body. It is called a Triquetra for those of you who don't already know by looking at it. I got it because I like the way it looks. If it looks familar it would probably be because you have seen it on the television show Charmed. Just for fun here is what I know about the symbol: It is a symbol of the Holy Trinity (Father, Son, Holy spirit) The triqueta symbol predates Christianity and was likely a Celtic symbol of the Goddess In Wiccan and Neopagan belief: it symbolizes the triple aspected goddess (maid, mother, and crone) If you wold like to read more you can here http://altreligion.about.com/library/glossary/symbols/bldefstriqueta.htm Feel free to add to my knowledge of the meaning behind my new ink or just let me know what you think of it or tattoos in general.
8 responses

•
12 Jul 07
Thanks for the education princeworthy my friend! It is great to0 see you again - seems like you haven't been around in forever! lol I hads seen this symbol before but had no idea I knew what it meant! Where did you have it done, don't mean the tattoo parlour but where on your body? lol xxx

• United States
12 Jul 07
It is in the center of my upper back, a little below my neck. I have been busy with other things latley and lacking in ideas for discussions. That is why I have not been around as much. I will pop in here and there. It is good to hear from you mummymo!


• United States
12 Jul 07
That looks really great!! Who ever did it did a fantastic job on it! Where did you get it? I kind of formed my own meaning to the triquetra since I'm Gnostic and take from everything. I see it as The Mother, The Father, and their love for one another in addition to the Maiden, Mother, and Crone meaning.

• United States
12 Jul 07
Thanks hon! I think he did a wonderful job too. That is a really neat meaning for triquetra. I took a picture of the location if you would like to revisit the discussion and see it.

• United States
12 Jul 07
Oh wow! I didn't realize it was that big. In the other picture it looked much smaller LOL. That's a really interesting place to put it :) It looks really great!

•
12 Jul 07
Hey I like it hun. I have four tattoos, all my own artwork. I am working on another design at the moment, once that is finished then I will take it to my tattooist and get it done

• United States
12 Jul 07
I wish I could be talented enough to design my own tattoos. You are so lucky hun! I told my tattoo artist what I wanted and he drew it up for me. I like my tattoos to be bold :)

• Canada
27 Nov 07
I wish I could design my own tattoos too, but even my stick men look BAD! lol.

• United States
12 Jul 07
I like it as it has a christian aspect so to speak dealing with the trio and all. So where is this located at then? Just curiopus is all. Great job to whomever inked it and drew it for you. HAPPY POSTINGS FROM GRANDPA BOB !!~

• United States
12 Jul 07
Shawn from Exotic Tattoo and Body Piercing of Roswell, NM did this tattoo for me. I think that he did a wonderful job and it is especially impressive when you find out he is only 21 years old. I posted a pic of the location if you want to come back and see it Grandpa Bob.

• United States
12 Jul 07
Hi Princeworthy! I have seen this symbol in several places lately and had wondered what its meaning was or what is symbolized! I couldn't research it because I didn't know its name! Thanks for the information. Where did you have the Triquetra placed on your body? Did it hurt very bad to have it done? I sometimes watch that show on TV, 'Miami Ink,' and it just looks like getting a tattoo would hurt so very badly.

• United States
12 Jul 07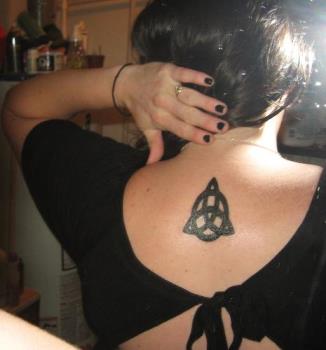 Since so many are asking where it is located I decided to take a picture for you. Do you know how hard it is to take a picture of your own back? Lmao!!! Finally I got one in the mirror. Here you go...

• United States
13 Jul 07
Very cool. I like it a lot. It's really nice but I know I've seen it somewhere else so thanks for clarifying that it was on Charmed.

• Canada
25 Jul 07
Hi princeworthy, I really like your new tattoo! Very nice! I have 6 at the moment, but am going for my 7th soon. It is going to be a teddy bear holding a rose and a ribbon with my daughters name in it.

• United States
19 Feb 09
Hello: that link is now: http://symboldictionary.net/?p=159