What Kind Of Knitting Needles Do You Use? Wher Do You Buy Them?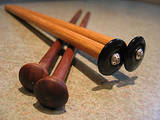 United States
July 15, 2007 1:02am CST
I have used metal ones and plastic ones. My favorite are the nickel plated kind. Can you get long needles that are nickel plated? The ones I have are the tips for knitting in the round. I like the large size needles as they are much easer on my hands. Like size 15 and up. I never tried the wodden or ivory ones. Would you please tell me what kind you like and where you buy them? Thank you. :D
4 responses

• France
15 Jul 07
Mostly I use wooden needles, and a lot of those I make myself, buying birch or walnut dowel and finishing the points just he way I like them. I also have a large collection of Victorian bone and ivory needles, which I do use and which are lovely to work with. I've also just started experimenting with modern circular needles, I'm starting to quite like them but it took me a while to get the hang of them.

• United States
16 Jul 07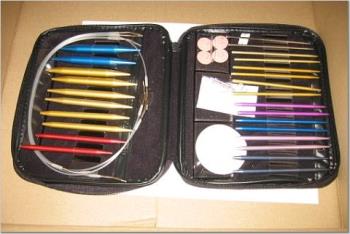 I have used metal, plastic and wooden (bamboo) needles. I think my favorite might be the bamboo. They are comfortable to hold and have just the right about of "slip" to make knitting eas, but not to have things fall off your needles. That said, wooden needles are pricey. So instead I treed myself self to a Boy interchangable needles set that I go off ebay. These are metal needles, which are good too. But with this set you always have the size needles you need for a project, I think it has saved me a lot of money in not having to buy individual needles.

•
27 Jul 07
I mostly use the Addi Turbo brand (nickel plated) circulars. If I have to use straight needles, I generally use bamboo. As for straight nickel plated needles, I believe Addi Turbo makes them, but few places sell them in the US as far as I can tell. I think I've seen them at www.elann.com though.

•
27 Jul 07
oh! forgot to mention knitpicks options set, similar but far superior to the boye needlemaster set (IMO) These are nickel plated. And I hear raves about their sock size double pointed needles. NAYY, but their website is: http://www.knitpicks.com

• United States
12 Oct 11
i normally use plastic needles i once had some wooden needles but they do not last as long as the plastic needles because after a while they start to splinter and if you are trying to knit with a really soft yarn it often gets snagged on the wooden needles and it will mess you project up that you worked so hard on to knit i did not even know they made metal needles it seems like they would get really heavy and you hands would get tired faster than using the light weight plastic needles size of the needles do not matter to me it just depends on what i am trying to make i like to knit with extra long needles though