MY pet dog snapped at me!!!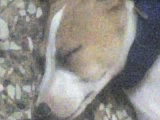 India
July 15, 2007 4:10pm CST
Today my pup was just in the sleepy mood, n I thought of cuddling the little darling, when he jst snapped at me,so aggressively, that I ended up with a long scar on my right cheek, just missing my eye! It was his tooth mark, n more than physical pain, I had an emotional pain. My heart just broke, cause i was the one who always took him to the vet, bought him all his goodies with my pocket money, n also bought him home back when my brother got tired of him, n left him alone one night in my absnece at a nearby park.After doing all this, my mom too was more thn shocked to see something like this. It was obvious that my mom later spanked him with a cane, not too hard obviously, because I never wanted him hurt. So wat do u think? Is it normal for a dog to snap like that,???Gmme your ideas, please, cause I m crying bittlerly....
2 responses

• United States
15 Jul 07
Yes, no matter how much affection on your part, a dog is still an animal with basic reactions. The dog was probably sleeping or at least half asleep and didn't know what what going on. It snapped defensively because the natural reaction to something unknown crossing into its space. I don't imagine the dog knew that it was you and not some bigger animal threat. Don't blame the dog for being a dog. Afterall, no matter how much we love our pets, they are still animals with animal instincts.

•
15 Jul 07
my hubby has a lot more experiences with pups and dogs than I have , he suggests if the dog has always been good tempered and if this is not usuall for him that I could be the dog is not well or the heat if a hot day could be too much for it . I am sorry if I haven't been much help to you pal xx