Poetry.com: They will take anyone.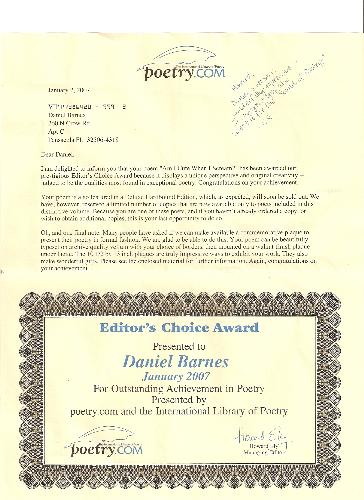 United States
July 17, 2007 5:35pm CST
I have to admit when I first received a reply from them I was more than ecstatic and willing to pay them $50 bucks to see my poem in print. Too bad I never saw that book and once I researched them I found that being printed by poetry.com was career suicide. Vanity publications are not credible and take no talent to be a part of. I mean I received an "Editors Choice Award" and was featured in a "Deluxe Hardbound Edition, which as expected, will soon be sold out"(they failed to mention the name of the book), but have you actually heard of me? Have you heard of 18 year old Daniel C. Barnes? I think not.
2 responses

• Australia
20 Nov 09
Dear 18 yr old Daniel dont be disheartened no fool like a 59 yr old being riped off as well Thought it was so good I was getting published my ego went through the roof which now has taken one big leap through the earths surface I wasn't riped of any money thank goodness but my self esteen tumble is worth more I guess but dont worry KARMA WILL SNEEK UP ON THEM AND BIT THEM IS THERE rear ends AND THEY WILL PAY A GREATER COST IN THE END Well Least you know you are a good poet must be for them to be so incompitemt they cannot write to steal from great writers like us themorningglory16
@yahoo
.com if u want to write take care mate beverley

•
9 Sep 07
Yeah the old Poetry.com scam, this has been going for some time now, I used to enter my poems on there, and every time I did I would get the old letter offering my poem in print, thankfully I never did bother, but it's a shame that places like this get away of preying on passionate people. Hopefully one day somebody will get rid of them.