Obedience Classes for Dogs?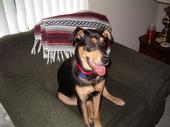 United States
July 18, 2007 9:46am CST
I have had many dogs in my life and never taken any of them to class. Well, my almost 7 month puppy needs it bad. LOL He starts tonight on a 5 week training course. I am excited but nervous at the same time for him. Anyone ever taken their dogs to one of these? Did it work? What was your experience? I am doing 5 weeks for $ 89.
2 responses

• United States
18 Jul 07
TRAINING CLASSES ARE GREAT!!! It's great to have a professional to help you out. Listen to EVERYTHING they say, as crazy as it may sound. Also, keep in mind, that the classes alone are not going to make your dog better. You need to work EVERY DAY with you pup in order to make him the pup you want. It's also great because your dog will meet other people and pooches. Keep a list of any questions you have for your trainer, because I'm sure you have a lot of them! Also...PATIENCE PATIENCE PATIENCE!!! It won't happen over night, and your dog is in the "bratty" teenage months of puppy-hood. He may sometimes act like he has no idea what you are saying, but he knows. Just keep with it, and around when he turns a year old, you'll be like "Oh my! He does remember!" LOL Have fun with it, and always keep training a positive spirit. Make it FUN for your pup, and it will happen easily. Good luck!!!

• United States
18 Jul 07
Thank you so much for your tips and thoughts. I will definetly listen and follow all their instructions. Thanks a bunch.

• Philippines
20 Jul 07
i have three dogs..one is pregnant and they have not gobe through any obedience class..as much as i want to i dont know where i could put the into this kind of class and that i dont know if how much..so far they are not that hard headed stubborn babies..their doing well except from barking too much at almost anything..