Do you remember Underdog?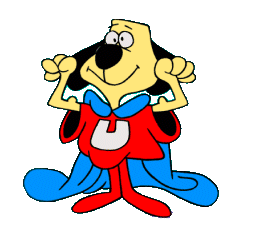 United States
July 18, 2007 8:10pm CST
I do. It was a good little cartoon that was a homage to superman. Instead of a superhero being a man, it was a dog, Underdog.Now there is a live action film coming out of Underdog. Every time I see the commerical for the film, it makes me want to see the original series.Do you remember Underdog?
2 responses

• United States
25 Aug 07

HI sarah! I know that you posted this a while ago, but I, too, love Underdog! He was a GREAT hero!!!We took the kids to the movie a couple weeks ago. It was an absolute blast!!! My three year old didn't move throughout the whole thing, and we all were singing the Underdog theme song when we left. The movie opened up with the original cartoon opening. Jason Lee did a great job as the voice of UD. So, I did want to expose my kids a bit to Underdog before we went to the movie. I found some of the cartoons on YouTube.com. Here's a link to one of them... http://youtube.com/watch?v=X_-mMIClI14 Hope you enjoy!!

• United States
26 Aug 07
I am glad you and your family like the filmThanks for the link.I'll try it.

• Canada
10 Aug 07
I do, but not as much as I remember Rockie and Bullwinkle. Do you know if they are on the Cartoon Network? We were looking for shows to watch, we came to the Cartoon Network and a lot of the cartoons, the artists well they should have gotten an F. I really miss the older cartoons.

• United States
12 Aug 07
I don't know if they are on the Cartoon Network , but Rocky and Bullwinkle are on DVD. I have season 1 and 2. I got them at F.Y.E.