Have you ever had your fortune told?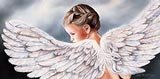 United States
July 19, 2007 5:08pm CST
Just curious if anyone ever had an experience wih a fortune teller? If so were their predictions close to reality or wa out there. I have visited a a forune teller and sometimes follow my horoscope, but I am not sure if I believe or not. Let me know what you think..
1 response