Why does the Kangaroo have a pouch???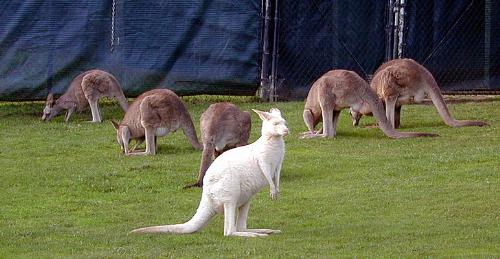 India
July 20, 2007 2:39am CST
Animals that have a pouch are called Marsupials. Kangaroo is one among the several animals which has pouch. The pouch that kangaroo has, which is hetween its hindleg is about as snug and comfortable a little home as a new born baby can have. it is fur lined, keeps the baby warm, protects it, and enables the baby to nurse, and provides transporatation for that helpless infant. the reason a pouch is provided to kangaroos by nature and other marsupials is that the young ones of these animals are born in really a very helpless state. if you notice, the kangaroos is tiny, pink, naked mass, not mush over 3 mm and as thick as a lead pencil at its birth! Can ya imagine what would happen to such helpless infants born in this world???? So the mother keeps it baby inside its pouch and it'll be the home for the young one for next six months time.... in this six month, the kangaroo would grow to size of puppy but life is too good inside pouch so its stays inside the pouch but will keep its head out.... it will peep out from the pouch and travel with its mother.... it will be in a position where it can pull out some leaves when its mother stops for its food. in fact the joey will be near its mother even after it has learnt to walk and run... when a danger is about to strike, the mother would hop near to the kid and pick it with its mouth even without stopping and puts it back in the pouch safely. there are 120 different kinds of kangaroos.... the wallaby is the smallest and the great red or grey kangaroos are biggest. they have short frong legs with small paws and very long hind legs with one large sharp toe in the liddle of the foot. they are able to hop for ditance of 3 to 4 metres. they rest with the help of its tail.... they can travel very fast and their sense of hearing is so good that they can hear their enemy at great distance. So now that i told you what i know about kangaroo.... why not you???? have ya seen kangaroos in real????
2 responses

• Philippines
20 Jul 07
Carrying the baby in the pouch is convenient for the female, who may travel many miles for fresh food and water. The youngster stands a greater chance of survival because it does not have to keep up with her. The baby is tucked away, safe from predators.

• Philippines
20 Jul 07
By the way, I have not seen yet real or live kangaroos in my entire life, only in movies.