What whould say about HOPE???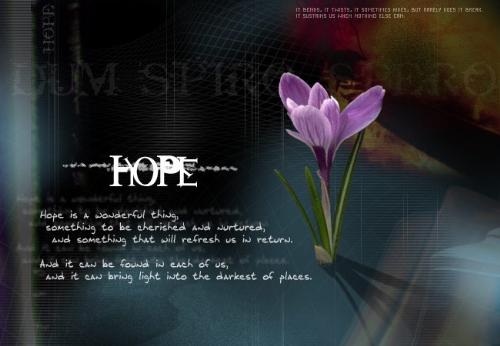 Saudi Arabia
July 21, 2007 1:34pm CST
For me I would say hope is the reason we keep going in life.. Without hope there will be no dreams, no life and no smiles... People would stop working, achieving and giving... What do you think? Do you agree with me or you have something else in your mind??
4 responses

• Saudi Arabia
22 Jul 07
You worded it in a very simple and nice way, I guess hope is the motive behind any move we make. U work hard, you strive, you do your very best at work, at home, on each and every level WHY? it is because you have hope. I can't come up with words sweeter than the ones you wrote up there. Thank you for the lovely post. Your majesty .....

• Saudi Arabia
22 Jul 07
OMG.. Thanks deadraven for your response and for your sweeter words :) Her majesty is satisfied :p Wait I'm about to believe it :D

• Canada
21 Jul 07
Yes I agree with you! Without hope and faith life would become 'hopeless.' I know that sounds rather trite..and stating the obvious...but I cannot envision a life without hope. Hope for a brighter future, hope for less war and more peace, hope for a long, healthy, happy abundant life for ourselves and those we love. Hope for greater human rights, hope for less polarity and greater unity. Without all that I would probably feel not only hopeless...but helpless as well. Those feelings can make people question whether life is even worth living....and over hopelessness is at the root of depression for some. To me hope is the breath of life, the chord that makes our Onesong with each other sweet.

• Saudi Arabia
21 Jul 07
Thank you very much for your thoughtful response.. Have a nice day :)

• Philippines
21 Jul 07
I wholeheartedly support your statements for without hope, life loses its meaning. Along with faith and love, hope is an enduring virtue and love springs from hope. Hope produces joy and peace. And as believers of the faith we embrace, our hope is not in the things of this world, which is ungodly and unfair. Jesus said, "In this world, you will have trouble, but take heart! I have overcome the world. (John 16:33) Therefore we do not lose heart. Though outwardly we are wasting away, yet inwardly we are being renewed day by day. For our light and momentary troubles are achieving for us an eternal glory that far outweighs them all. So we fix our eyes not on what is seen, but on what is unseen. For what is seen is temporary, but what is unseen is eternal. (2 Cor. 4:16-18)

• Saudi Arabia
22 Jul 07
Thank you very much for your response.. I agree with you 3 things we can't live without hope, love and faith...

• Philippines
21 Jul 07
Yes I do agree with you. Hope is the reason I keep going in my life. Life is an unpredictable journey. You can't tell when the good times or the bad times would come. When the bad times do come in my life, I always hope for the good in the future. It makes me want to look forward to the better things that may come. Life is not all so bad. As long as we have hope, the journey in life will be easy to take.