How about urban biking?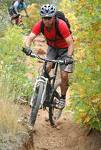 Philippines
July 23, 2007 2:01am CST
I jump stairs and gutters, sidewalks and sometimes benches. urban biking is like a little bit extreme in mountain biking. I thought it is just ridden off roads, hills, and forests trails. But here in our city we could just go about anything. just as long as you cause trouble....
3 responses

• United States
18 Dec 08
Urban riding is a great way to mix up a training. I couldn't focus on it because there is not enough of it around here and it is a pain to get chased by the cops all the time. For me I'd rather go to the woods and be chased by park rangers, it is more sporting that way. :)

•
22 Dec 07
well i am a moutain biker i am wanting to go pro i ride mostly park and dit jumps its so fun i am working to a back =flip i hope to stick one this year i am sponsored by a company called six six one its protective gear the best advice i can give is go for it dont think bout it just do it

• United States
27 Aug 07
To each his own, I guess. I am not as brave to go jumping stairs and benches...I don't even jump up on sidewalks! If I have to get up on a sidewalk and there is no slant up into it, I get off my bike! I guess I'm a novice in many ways. I don't have the skills to do those extreme things! I don't really think I can do much mountain biking either...I have problems getting up hills and I wouldn't want to bike down a very long decline either, not with rocks added! I prefer the flat unrocky road for my biking...for now anyway! Maybe if I ever get the confidence to do more, I will try that other stuff! lol By the way, I hope you meant: just as long as you "don't cause trouble" and not do cause trouble!