Clingy Kids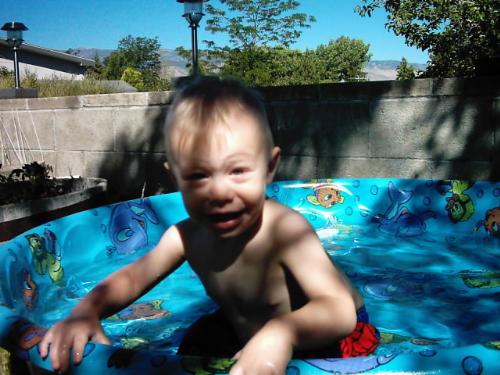 United States
July 25, 2007 10:37am CST
I love my son with all my heart but sometimes my 18 month old son is really clingy. For the most part my son is a social butterfly and loves to be the center of attention but at times, mostly in the morning and when were home alone, he insist on being held. I can't carry hm around with me because he is really heavy and when ever I leave the house, even just to go get something out of the car and he can see me the whole time he just stands there and screams and cries. It is a pretty new problem, it started about4 month ago and I have no idea how to deal with it. It is really frustrating for me and my husband. I would love some advice on how to deal or get past this.
7 responses

• United States
26 Jul 07
He will outgrow this phase. While he's in it, ENJOY the love he's giving out. It won't be long until the mushy stuff is yucky and he refuses your cuddling. Take advantage of it while you can, because he really will be grown up before you know it. I'd love to be able to cuddle my babies again except that they aren't babies any longer.

• United States
26 Jul 07
This is a phase for him. My daughter is going through the exact same thing right now and she is 21 months. It drives me insane. I can just go take the trash out and she will stand there and scream the whole time. And whenever I leave her with a sitter I have to sneak out of the house to avoid a huge screaming fit. One thing I've started doing is leaving her with a sitter more often. I will leave her with my fiance one night a week to hang out with my friends for a couple of hours and sometimes I will leave her with her grandmother one day on the weekend so my fiance and I can hang out. Also starting in mid August I'm enrolling her in a Mother's Day Out program once a week. I feel it will be good for her to be around other little ones her age in a structured environment. I think it's really important for our little ones to know that it's ok for them to be without mommy for a little while because mommy always comes back.

• United States
25 Jul 07
All you can do is wait it out. He's 18 months. He still needs his mommy. You say he's social most of the time. So it's to be expected that sometimes he just won't be. Maybe he's tired, maybe he just wants to know you love him. Soon enough he won't want to be around you. So enjoy the time when he does. He's still little more than a baby, and you have to realize that. Tell him you love him, and hold him as much as you can. If you can't, then let him play near you or help you do things. This will make him feel special.

• United States
3 Aug 07
my oldest boy was the same way before he hit 2 years of age. He grew out of it nd now that he is a teen all I can say is boy do I miss those days when he jsut wanted to be held and loved.

• United States
26 Jul 07
Oh my gosh, You totally just described my 16 month old daughter Elizabeth to the tee! IAll she ever wants is MOMMY. She's also a social butterfly, but only for a min then shes looking 4 mom. I can't even walk to the car 4 a second without her screaming. I will play with her for hours and after she still wants me to constanjtly hold her.. I hope it passes soon.

• Canada
26 Jul 07
That's actually prefectly developmentally appropriate for his age. It shows that he has a healthy attachment to you - that he can go and play but still need you - it's a good sign for his future relationships. And it will pass. Just ride it out and enjpy it while it lasts.