What do you call those colored stones that psychic people use?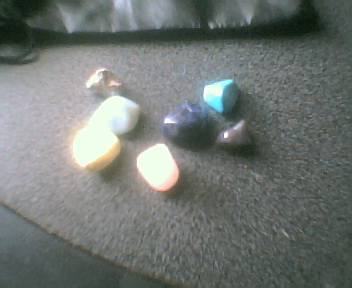 United States
6 responses


• United States
25 Jul 07
I think that the psychics call them gems not sure

• United States
13 Aug 07
Some also use chakras and I have several here. Each is supposed to represent a certain part of the body or a certain emotion. I don't know what I think of chakras as far as their powers.what they really do but I think they are beautiful and I enjoy wearing chakra jewelry and picking the one that is supposed to address my particular situation that day. Can't hurt! lol.

• India
4 Aug 07
ya these stones are called gemstone.acc to astrological charts which is prepared with the help of ur birth date,time,place.the planets which benefit u have gems similar to them hen u r asked to wear them so that u can benefit by increasing ur luck

• Canada
19 Jun 08
They are called gemstones or crystals. There are many many different types and they all have names and different healing qualities.

•
13 Feb 08
It's hard to see what they are but they look like crystals the purple one looks like amethyst and the pink one looks like rose quartz. You can use them for healing or even divination.