Do you think your best friend is mad at you if she doesn't call?

United States
July 27, 2007 10:36am CST
Way back in the day I had a really good friend that would either call me or email daily. But, then she just stopped communicating with me altogether. She didn't call and she didn't email me. Back then, I way too insecure, so I figured she must be mad at me. Or, maybe that I had said something to hurt her feelings. I kept sending her these wacky emails saying stuff like, "Are you mad at me?" I know that sounds corny, but like I said, I used to be really insecure with my friendships. Not sure why. About a week later, she emailed me to say that she had been dealing with personal family stuff with her husband and her kids and it didn't have anything to do with me at all. As wacky as my story is, I know that there are others out there who have the same insecurities when it comes to their own friends. So how about you? Do you feel insecure if your friends stop calling you? Do you think your best friend is mad at you if she doesn't call or write for a long time? Do you think she is purposely trying to avoid you? If you see your friends at school or the mall and say "Hi" and then they don't return the gesture, do you think they are trying to break off your friendship?
7 responses

• China
28 Jul 07
Well, it is a commonly happen thing in our life that our good friends don't communicate with us any longer, or purposely avoid seeing us. I'm sure everyone must be very much hurt when this happens to him or her, because friendship is a very prescious treasure in our life, and to be avoided by a friend is really frustrated. No one wants to be treated like this. But anyhow, we cannot leave it like this, we have to find out the reason. To me, I ususally reflect on myself firstly to see if I have ever made any mistakes that hurt my friends, or there are some misunderstandings between us. If it is my fault, I will apologize to my friends and sincerely ask for forgiving. Usually we'll become good friends again. If it is my friends' fault, I'll speak it out politely, and help him or her realize his/her mistakes. This is a good way in keeping good relationship with people. There are also some occassions like the one mentioned by beautyqueen. Your friend does not contact you any more, not because of you hurt him or others, but only because of her own family affairs. On such occassions, we should fully understand our friends, and try to share their miseries or vexation. Good friends mean love each other, share happiness and miseries, and never betray each other.

• United States
3 Aug 07
Your words have reminded me how precious and fragile real friendships can be. I should be more patient with my friends. They have busy lives of their own. I gave you best response! Please drop by anytime.

•
28 Jul 07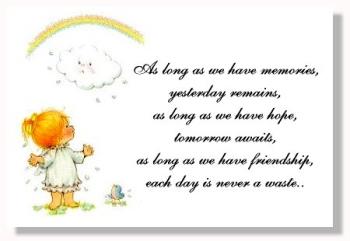 I did this to a close friend a few years back when I split up from my husband after a 15 year relationship. I ended up not going to her wedding as I was an emotional wreck and she was pretty upset with me, I explained later when I went to drop off her wedding present that I didn't feel I would have been able to cope at a wedding and didn't want to be a misery guts on her special day - no amount of acting was going to get me to be able to put on a brave face and smile and make polite chit chat with people all day as it was 2 days after separating from my ex and I felt as if my world had come tumbling down. We are friends again now but speak maybe a few times a year and have only seen each other 3 times in 5 years or so but that's mostly because she's moved far away and has been busy having kids and bringing them up. On the other hand someone I used to consider one of my best friends did something similar to me - we'd been good friends for about 8 years and I'd met her through a guy I know from college days. They split up and her and I remained close friends to the extent that she left to live in France for a couple of years and we maintained regular contact. She then came back to live in London and met a new guy and I noticed she was very much into what he wanted to do and only hung around with his friends and she actually left the country with him to go get married and live in Australia and completely cut off contact with me. I was hurt at the time that she didn't even let me know she was leaving the UK let alone the fact that she wasn't coming back. I couldn't even send her a card or gift for her wedding. No one that I know has any contact with her but someone pointed out to me that her new man probably didn't want her hanging out with people she knew through her ex as they had a very volatile relationship and seeing me would always be a link to her ex and he was worried that she might go back to him (which was daft as he got married to someone else anyway)... At the end of the day I guess we all have to accept that if we lose a good friend for something we are unaware of, then they probably weren't that good a friend deep down anyway! Friendship is what we make of it - we shouldn't expect our friends to be at our beck and call whenever we need them - as often their lives take over and their priorities change... As we get older and have careers and/or get married and have kids we don't have the time to be in touch with best friends every single day. I have friends I am very close to and I might see them 3 or 4 times a year or phone them only once a month or they phone me, but I still consider them very close friends and would trust them with my life :)

• United States
3 Aug 07
It's so true! Friends are not our servents. That is for sure. If we want them to stay on our support team then we should understand they cannot be available at all times, even when we need them most. Thanks for dropping by. You gave a very good answer.

• India
28 Jul 07
Dear beautyqueen26, You say that x is your best friend. O.K. she does not repond to your emails etc., O.K. Do not bother. She will come back to you. She is not mad at you at all. She is now preoccupied with some troubles which she wanted to getit sorted out. Once she comes to her normal mind, she will definitely call you. This had happened to me about 10 years back. One of best friends, refused to answer my letters. I kept quite. Subsequently he wrote to me why he did not answer my letters. He was falsely implicated in a case and he had to go rhough lot of problems. He never wanted to disturb me with his problems. Therefore, do not worry, she will call you in due course.

• United States
28 Jul 07
Isn't that the way good friends always are? They don't want to burden us down. It's so true. Thanks for the advice. I guess I worry too much.

• Philippines
28 Jul 07
Yes, I also get paranoid sometimes when I get no reply in my email. But I would try to re-establish communication and it turns out everything is alright. Usually it's just a glitch where she didn't receive my email or I didn't receive her reply.

• United States
27 Jul 07
My best friend and I don't have a habit of calling each other daily, but we respond to missed calls from each other usually immediately. If it was a situation where my best friend wasn't responding to my emails or calls, I would worry; not because I'm insecure about our friendship, but because I'm sometimes insecure of her wellbeing. For example, once she wasn't able to respond to my calls or emails for two weeks because she had been hospitalized; sometimes I'm afraid something similar to that will happen again. As far as my friendships are concerned, though, I'm the type of person who enjoys solitude and luckily, my best friend is the same so we're able to give each other space without feeling insecure.


• India
27 Jul 07
Yes.. this is very much true...and "getting no reply" hurts when you are very much attached with your friend emotionally...you can also check that ..you dont care for any reply if you are not emotionally attached..but sometimes I think that very much emotional attachment makes us week and insecure...as we always expect a good relatioship which does not happen always...Anyway as we are social animal, we cant live without emotion..but we should never expect from anybody..then insecurity does not come if we are right from our side