Old Navy Stores

United States
10 responses

• United States
30 Jul 07
I think they have the most adorable boys clothes ever.. although I wasn't quite impressed with what i've seen of their girls section. I have a few pairs of jeans I found there that I like.. they were on clearance.. but I don't wear them much..as I don't much like the style they have for women.. I do have and like some of their tank tops and tee shirts.. but I LOVE their boys section and men's department. It could just be that, i don't know if you have any boys.. but check out their boys department.. they've got great stuff there. (:

• United States
30 Jul 07
I do too wmaharper as I have only bought for my 5 year old son and there are some good stuff there for the boys. It's nice to actually find a store that not only caters to girls clothing but to boyz and men.

• United States
30 Jul 07
I've never bought any clothes there. I just don't really go into that style. A whole lot of it is just to show the brand of the store on the material. My sister bought me a shirt from Old Navy, but that is all I have ever worn from them. I don't think it is different styles in different areas of the country. I think it is all our (mylotters) different tastes.

• United States
30 Jul 07
Thanks,Iam not into brand names and tags either.

• United States
30 Jul 07
I never understood about what was up with Old Navy neither. I went in there years ago with my mom and could not find anything to buy that I liked. My mom bought a couple of t shirts. I don't even like most of the clothes they have in their commercials.

• United States
30 Jul 07
I don't think Old Navy carries the same exact thing in every store. In fact, I don't think any major store does this. I have found a lot of t-shirts and shorts for my son there, but not much for myself.

• Australia
30 Jul 07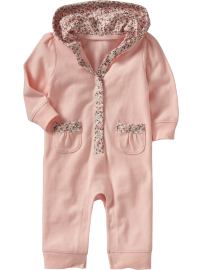 Old Navy isn't a big brand here in Australia, i don't even think we have any stores here but there are quite a few people on eBay that have bought Old Navy stuff over there or from there online & from what i have seen, i don't really like much of it, especially not the stuff i've seen for women or little girls. I guess it just depends on your tastes, if those are the things you like then it's all good, if not, then just shop somewhere else. I am on the Old Navy website at the moment (so i could look for myself) & some of the stuff they have in their online store for little girls is REALLY cute, if you want to use that brand, maybe you should go through their online store - some of it is super cute! I have added a picture of a gorgeous winter one-piece i found i would LOVE to get my daughter - check the site! There's a gorgeous kids store here called Pumpkin Patch. Some of the stuff is super cute (but expensive) & other stuff i would never put on my daughter. Some of i think is also designed to make little kids look older than they are which isn't my thing at all.

• Australia
30 Jul 07
Oh & yes it is true, different stores in different places sometimes hold different stock so maybe you could try a store in a different town! Wow, i used the word different 4 times in 1 sentence - LOL!

• United States
30 Jul 07
They could do, not sure about that dfollin but the Old Navy at our mall has really good clothes for boys, girls, ladies, men and of all sizes, they cater for small and for big. I usually buy my sons clothing there and his size ranges from 5-7 depending on the type of clothing we buy. It also depends on your tastes too so there are things that i would buy and then there are things i wouldn't because they just don't suit my body type. I have only shopped their twice and I am happy to say that I was able to get some decent run around shorts/surf shorts and t-shirts for my son. He is going to need them when he goes to school in Sept.

• Northern Mariana Islands
30 Jul 07
Hello there dfollin! I think you are right on the mark with this discussion. I personally shop Old Navy Online because we don't have an Old Navy Store here on island but I have been to several different Old Navy stores and they are different depending on where they are located. I went to one store in Hawaii and to my surprise the clothing were totally different from the stores in California and to make things worse, I heard that Hawaii gets the left over "no one likes to buy" clothing…lol…the clothing that have no sales get shipped off to Hawaii….lol…same goes to the Ross clothing Store in Guam, it is totally different from the states. I have also heard that Guam receives the "left over, no sales clothing"…lol….they do have some nice jeans in those stares but that is about it for me. We have one shop here that has a contract with the Roxy Office in Hawaii that only allows Roxy to distribute to this one shop (annanna's). They have been really content with sales because everyone loves Roxy, at least up until a few months ago…lol.. Price Costco is now selling Roxy clothing, but they did not get it from the distributer in Hawaii, they actually purchased it through an online bargin wholesaler for something like $10,000.00 a container full of Roxy clothing for $4,000.00. So yes, I have to say that each store varies, because I have seen it first hand.

• Philippines
30 Jul 07
maybe perhaps the taste is different i mean they might have some sort of different taste when it comes to fashion .. thats is sometimes true in some cases

• United States
30 Jul 07
My kids never got into the Old Navy clothing very much. They didn't like the style and they also said it was like a 'low end' GAP. We found that the few items we bought at Old Navy fell apart very easily! The clothing seems to be very cheaply constructed.

• United States
30 Jul 07
My daughter loves to shop at Old Navy- I personally think the quality of their clothing isn't the best- (Shrinks) but we always find cute things there- I would think that for the most part they carry they same things from store to store- but I'm not sure- The sweatshirts are great! They have cute clothes- but we mostly just get sweatshirts there- and some t's for play-