Pet birds

United States
5 responses

• United States
1 Aug 07
I have two male parakeets named tookey bird and tooty bird.In the near future ,I would like to get a white cockatoo

• United States
6 Aug 07
Sounds good. Cockatoos and parakeets are great birds. Very playful... Thanks for the comment.

• United States
13 Aug 07
I have a cockatiel and his name is Timmy. He loves to talk, and he can say alot of words. He also likes to sing hip hop songs. He even likes my cat , and they are friends.

• Canada
17 Aug 07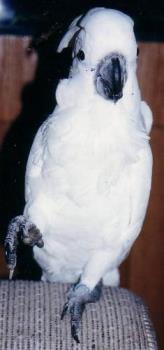 Yes we have had pet birds...budgies and a large white cockatoo named Aimee. She was a smart bird and could say..."Hello, pretty bird, Aimee is a pretty bird"...and then repeat it all again...and again...and again. It is really cute when you first hear it...but after awhile you begin to feel like saying Aimee...enough already. We had Aimee for a few years...but my hubby and I are self-employed and could not give her the focused attention cockatoos require. So we found her a home with a wonderful family and a 12 year old boy who dotes on her every need and she is a happy, chatty bird.

• Canada
18 Aug 07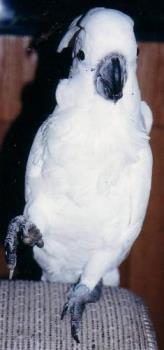 I thought I had posted a picture of Aimee in my original response. When I came back I noticed the photo wasn't there. So lets try this again...here is the picture of Aimee...waving. She is a bird with attitude and a lot of moxy!

• Canada
18 Aug 07
This is too weird...the photo shows up in browse..but but after I upload..it is not here. Oh well sorry..if I find another picture I'll be back to try again. Cheers

• Canada
18 Aug 07
I had two doves. They were given to us by someone who didn't want them anymore. But I got really sick with them around...like almost die sick so they had to go away! :( I still think of them every day!

• United States
11 Aug 07
Hi I have three birds, one cockatiel, one sun parrot, and on citern cockatoo. the cockatoo is my baby. She is very demanding and spoiled, and I love to spoil her. She is always giving me kisses. And loves to play pick-a-boo. stinkypoo