It is Love, when. . . . .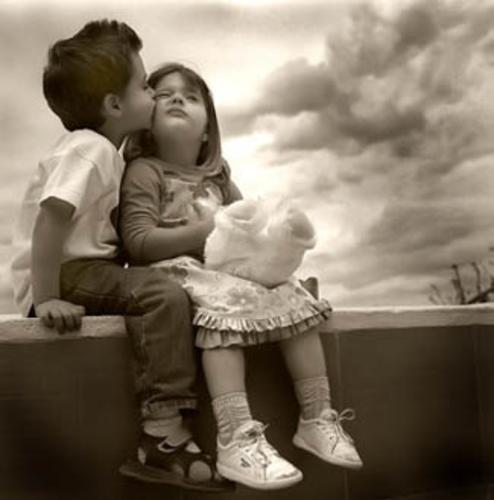 Philippines
July 30, 2007 10:41pm CST
Love? I always refer it that way whenever I feel something unexplainable within me, something that makes me do things beyond what I expect. I say it's love when I have those 'butterflies in my stomach', when I think about the person before I sleep at night. *hehe* (yeah sure!) Wake up from my make0believe fairytale! But as time goes by, I realized that what matters most is trust. I met a guy when I applied in a company months ago and he's been asking me out. (Yeah sure! whatever) He is.. I-dont-know... I hate the guts of the guy yet admired it at the same time. he's sincere though to formally say that he wants to visit me at the place where I currently stay but I said no. Oh, he's an expert too - when it comes to 'flowery words'. I can't understand it but "anger" arose when I heard the word 'courting'.. Anger that I thought had subsided after all these years. I know the reason. It boils down to one simple truth: I DON'T TRUST MEN. Was my mom right when she said that I'm traumatized? Naaah... "Trauma" is such a heavy word. I'd rather say that I've forgiven and forgotten, but I just can't forget the experience and lesson I've learned from that dreadful experience. Yeah sure, tell that the fault of one is not the fault of all. (Heard it many times) But hah! Married men can even look for another chick if they want to. And heck! To think that they vowed before God (Again, in front of God) to cherish and love their spouse. Yet, what are they doing? I know it's unfair for the new ones and I'm being unfair to myself, too... I retired from being a teenager, yet I know that I'm still considered a novice to be totally called a woman. I'm giving myself a chance... but it's not wrong to be cautios, is it? =) *** Have a great Tuesday morning everyone! *mwah*
3 responses

• Indonesia
31 Jul 07
LOVE IS when you are willing to accept someone without any conditions and don't mind to sacrifice for a better reasons.

• India
31 Jul 07
sweetie, i think, you are still in your teens, atleast your words say it no better. Life is full of unexpected things, full of bitterness, infidelity and we cannot but awe at those. but we should move on. Life has to grow no matter what. your experience is a bad experience but then why blame only men. i have known some women as well who are into this!! does that mean men should not trust us!! love is a beautiful feeling and you should not miss out on the pamperings and sweetness of it. so, go girl and get gorgeous. someone is waiting for you somewhere - donot await him. love and hugs..

• United States
7 Aug 07
I guess the only way to put this is only the person who is feeling a certain way can say if it is love they are feeling or not. No one can explain it for them.