Sanjay Dutt jailed for 6 years

India
July 31, 2007 4:22am CST
Sanjay Dutt, a leading bollywood star, sentenced to jail for 6 years for possessing arms illegally thus bringing to an end the 13-year-long TADA trial in the 1993 Mumbai serial blasts. Please post your comments in favour or not in favour of this decision. Do you think he should be given some mercy / pardon.
3 responses

• India
16 Aug 07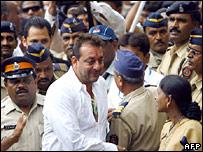 Well I think that he must have done something wrong that's why he is in jail right now. I won't like to comment much about this because I don't what the exact situation is like. But one thing is for sure that he must have done something wrong and for that only he is in jail. Well if crime exists then there should be proper punishment for it. That's all I can say.

• India
31 Jul 07
Sanjay Dutt must have done a mistake. But nobody was affected in any way. If the punishment was given then only it would have been different. Now he has changed, became a good person and no bad record whatsoever. So sending him now to prison is somewhat looking now. If punishment has to be given, let it be nominal.

• Israel
31 Jul 07
This is very sad and big injustice. Why does political leaders leave the culprits and punish the innocent people. I hope people will demonstrate against this and bring him out of the jail. Person who wanted to follow Gandhigiri and walk on the path of truth, this is what they did to him. I cannot see Munnabhai behind the bars.....I request people to do something. Only public can save him now.