south park vs family guy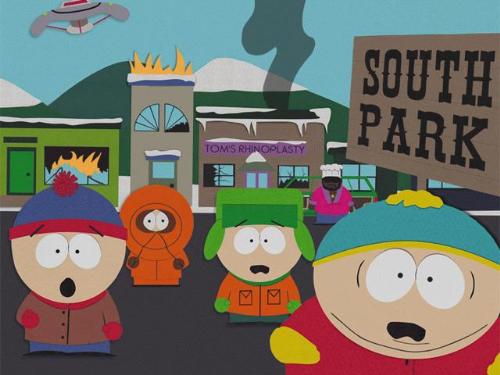 Egypt
July 31, 2007 8:01pm CST
do you prefer south park or family guy? and why??
9 responses

• Romania
2 Oct 07
South park is funny and have a specific humor,family guy i don't like it al all.

• Romania
23 Sep 07
i think that south park is better ...:D:P dono why ..:P south park is funnyest because the wehere here from the begining .. its a old cartoon ...:D:P its original ..:P and who woulded watch 4 kinds doing stupid things ?:P cartman the nazi, selfcenterd, fat, spoiled kid rullez..;D:D

• United States
12 Sep 07
I definitely prefer Southpark. Southpark is more original in it's form of animation. Most other Adult cartoons have some center around adult characters. South park is all about the kids, which makes it hilarious. It's centered around the kids having to deal with adult situations and realities that they just don't quite understand. It's so funny that they are in elementary school because of some of the things they talk about and know about, but the creators make it hilarious by the way they get things wrong. They are still niave enough at that age, and I think we can all relate more to that because it's funny to look back on. Their parodies and facism and portrayals of current world events just take the cake in any T.V. cartoon series.

• Malaysia
11 Sep 07
South park is the best among all cartoon. Go go go... south park

• France
4 Sep 07
South Park is way better than Family guy. Just because it's the kids who jerk around in it LOL


• United States
4 Aug 07
Heres my top 5 list of cartoons that i love 1. Southpark 2. King of the hill 3. Family Guy 4. American Dad 5. Tied: The Simpsons and SpongeBob

• Philippines
1 Aug 07
hi there! ;0 i would say that i prefer southpark. but i guess this is a biased answer since i really havent watched even a single episode of family guy. but i can say that southpark keeps me contented. lolz. they are really funny and every episode is full of fun. :) but im planning to try and see what's up with family guy too. i mean, i heard lots of good things about it too. it never hurts to try. :) good day to you! :)

• United States
1 Aug 07
I prefer South park over family guy, reason being it's more adultish family guy is more of a child thing in a way though.. South parks is also more like a comedy than really anything else...