The Dirty Rat!

United States
July 31, 2007 11:37pm CST
my new van started acting weird, like idling too slow, then the engine light came on. oh bother. took it in to see what was going on and I had a rat up in there! it chewed through the fuel injection system and then into the computer. that rat is costing me $700 in repair fees that I just don't have. turns out that there are a lot of people with this trouble around here, the rats climb up in the engine to cool off since I use the AC. I knew they liked to get warm on engines in the winter...but this is the first I heard of them wanting coolness in the summer. hmmm wonder if the insurance covers THIS kind of vandalism. oye.
6 responses

• United States
1 Aug 07
Oh my! That is just awful. I remember when I was in OSH a few months back walking through the rat poison isle when a woman customer told me a similar story that happened to her vehicle. I was looking for natural bug spray, I believe, while she wanted some advice on the best rat poison to get as she was on a mission to kill off these rats. She was so po'd. She told me it would cost her $500 to get her vehicle fixed. Ouch! I almost always worry about this happening to me since I live on a field and there are a lot of rats outside. I just know it is going to happen one day...

• United States
1 Aug 07
the mechanic said to put mothballs in a ziplock with holes punched in it, in several places under the hood to ward them off...I think I will put them into nylons instead. maybe this tip can save you the same frustrations as the lady in your story and myself have faced.

• United States
15 Aug 07
I dont undestand why it would do such a thing? You know I hate rats I would have been so creeped out! icky pooo I'm so sorry!

• United States
15 Aug 07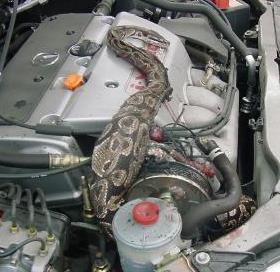 LOL.. I don't mean to laugh, but it's the last thing you would have expected. It reminds me of a picture a friend sent me via email. A snake that had curled itself up around a car engine. He was driving and heard a "pop" like a flat tire, opened the hood and found this!!! Sorry to hear about your repair costs.. that's just ratty...

• United States
1 Aug 07
Wow...that is awful...like we dont have we enough problems without a rat crawling under the hood and chewing on parts..and things like computers. It is not like they taste good.

• United States
1 Aug 07
I had that happen to me when I lived in Texas. Pack rats climbed up into my engine. They only chewed off one wire which needed to be replaced. I noticed it because the horn didn't work. Too bad you can't take a rat to court. Then you could hit them with a big lawsuit, at least enough to get your money back. lol.

• United States
1 Aug 07
Oh my word! I have never heard of this but I doubt its uncommon. I can't believe a rat can do that much damage. I would be highly ticked if it was me. Good luck with the car repairs and money situation.