What is the sweetest thing your husband/wife/or s/o has done for you?

Canada
August 2, 2007 11:36pm CST
I would have to say that one of the sweetest things my husband did for me was shortly after my emergency surgery the night we lost our daughter was when I got home..Not only did I get his love and support that night and he was right by my side when I came out and was in recovery..But the night I got home I found it hard to sleep on our bed because I had staples in my incision...So that I wouldn't be alone and incase I needed him in the middle of the night he slept beside me on the floor...
4 responses

• United Kingdom
4 Aug 07
Awwwwww Sweetie that was sweet of him Well after a bad Marriage and never knowing what it was like to be loved I now have the sweetest Man in my Life We do not live together but the sweetest thing he does for me is love me and be here for me when I need him I have never known anything like that as my Ex Husband only cared about himself

• Canada
4 Aug 07
Awwwwwwwww I'm happy for you hun...It is a wonderful feeling when you have love that is there for you and not themselves that is what love is and always should be

•
3 Aug 07
Since I have had mobility problems my other half (as well as my kids) have done everything they possibly can for me! My other half cooks and cleans for me, does the laundry, most of the shopping etc, he also supports me and cheers me up when I am down and takes time off work to help if he can! He holds me and lets me cry when I feel down and in pain and laughs with me when I am happy! I know i am lucky! xxx

• Canada
3 Aug 07
yes hun you are very lucky..I know that when I was layed up for a few weeks because I wasn't allowed to clean do dishes laundry or even pick up my 14 month old my hubby and son did it all...He was sooo good to me...Even now that when I need to cry even if he is at the computer I will sit on his lap lay my head down on his shoulder and just cry..I always feel better after a good cry..hugzzzzz love you hun! xxxx

• Philippines
3 Aug 07
Hi BlueAngelIRS! Wow, he is sensitive too with your needs, that's very sweet! You're lucky you have him and I know he's lucky to have you too. The sweet thing my husband did for me is coming home last night with a bouquet of white roses...he knows i love white roses. Have a nice day!

• Canada
3 Aug 07
hi faith210 awww that is very sweet of your hubby to do..I love roses too..Yes I am very lucky to have my hubby and sounds like you are very lucky too..

• Canada
5 Aug 07
Honestly hun their is a 3 way tie for the sweetest thing(s) that my hubby has ever done for me ... 1) He loves me the way no other ever has or will 2) He married me! Every day I thank my lucky stars for that! 3) After being told for ten years I couldn't have children he helped me concieve our baby girl! I also thank my lucky stars every day for my miracle baby! I couldn't imagine my life without either one of them, and I honestly hope I never have to!

• Canada
5 Aug 07
Awwwwwwwww hugzzzzz hun and i'm happy for you...That is great and I'm glad things are going really well for you..smiles

• Canada
6 Aug 07
Thank you bunches hun! I am FINALLY happy for once and it's the greatest feeling in the world. Sure we have our moments, but every couple does! The good definitly out-weigh the bad!

• Canada
20 Aug 07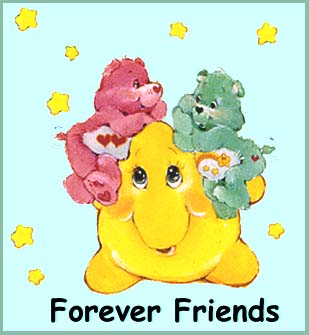 Thanks so much for best response! It is very much appreciated hun. I hope you had a nice 1 Year Wedding Anniversary with your hubby!