My Day Out... A Change of Plan, and a Dragon! Part II...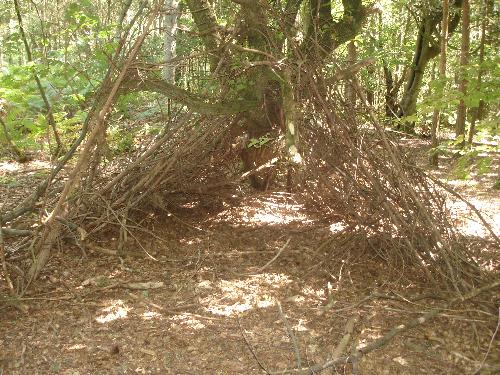 August 4, 2007 9:44pm CST
Ok... so now you know all about the St. Leonards, West Sussex Dragon Legend, and we are some way through the forest. We had climbed to the highest part of the forest, and didn't wish to turn around and head straight back down, so we took a right turn and looped round, ending up on the bridleway. As we emerged from the wooded area, a huge dragonfly came for us... it was really big and a dark golden colour, the like of which I've never seen before. Ok, yellow and black I've seen and often have the turquoise ones in my garden, but these were even bigger and almost a copper colour... or could it be they weren't dragonflies, but faeries? Hmmmm... I'll leave that one to your imagination. Anyway, we turned left and climbed to the top of the bridlepath hill, onto the ridge, where there must have been five or six signposts. lol. So, having picked up what I thought I would make an excellent new staff, I plodded around these signposts with my staff in hand, lol, like Gandolph! From the signs, I decided we needed to head back down the bridlepath, much to my Son's disgust. It was over a mile down there, so I reckon we walked about 3-4 miles in total. My granddaughter had collected four sturdy sticks to take home and make a tent. lol. With one of these, she kept running ahead, and making giant dragon footprints. The girls also had fun running ahead in the forest and hiding behind trees and amongst the foliage, thinking we couldn't see their rears sticking out behind the tree trunks. ha ha ha. They too marvelled at the dragonflies, or faeries, whatever they were. They were so big, and so abundant that they were even shown on the nature board at the entrance to the forest. We went to KFC and I had a KFC Salad, as did Sarah, and the others had fries, coleslaw and beans with theirs. Then, once home, Lauren wanted to make this tent. She has a perfectly good tent, you will understand, but she wanted to make one. She was having a bit of trouble, so who got involved.... yup, yours truly. Our guy ropes weren't to strong or well anchored and on putting a sheet over it, the whole thing collapsed, so, I got impatient, and turned it into a tepee, but she like that, because it was different. :) When the sun had gone from the back garden, we went indoors and I showed her what you'd all said in answer to a couple of discussions I'd started about her. She was really pleased... and Whyaskq? She sat watching your avatar for ages...... she thought it was great!!! lol. So, there you have it. St. Leonards Forest stretches from Kent, across Sussex and into Hampshire and there are some very interesting places to visit so I'm sure I will be going back to different parts, and will keep you all up to date. I hope you all had as great a Saturday as I did!:)
9 responses

• Australia
5 Aug 07
Thanks for the tour Darkwing. Maybe you should think about a career as a tourist guide! Precious moments spent with family will never be forgotten and I know you are yours will have many happy memories.

• United States
5 Aug 07
I am going to say since they were so big they were faries. and they might think so to there for they put them on the sign posts . You sure had a longg walk bet it built you up a big appitite. Would have me. and that gril sure has an imagenation. and keeps ya hopping even if her boody did stick out behindt the tree. Enjoyed Sat. in our pool the water is a bit warm for it sets in the sun but after being in for awhile and ya get out the wind hits and then ya are a bit chilly. It was great tho

•
5 Aug 07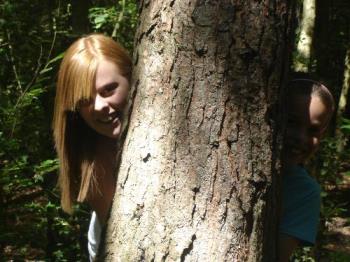 Yup, I put them down as faeries for the way they soared high and then decreased their height and flew around us. Also the golden colour... they were beautiful. There's a pic here of the girls hiding behind a tree, and looking out... you can't see Lauren too well, but Sarah's visible. Off to the beach now, to comb for some suitable stones for my project. See you soon. xx


•
5 Aug 07
I am so pleased you had such a lovely day , it was nice here too yesterday , I spent the day cleaning out and rearranging all of my kitchen cupboards , I was tired but happy tired ( if you know what I mean ) I so envy you your walks pal , I used to love to do that . It has pored rain all day today here but we still had a lovely time at my granddaughters 18th xx xxxx

•
6 Aug 07
Yes, I know what you mean. I too used to walk about seven miles a day but I can't do it any more with my knee... it tightens up. I'm glad you enjoyed your granddaughter's 18th celebrations. Please pass on my congratulations to her. Brightest Blessings, my friend. xxx

• United States
5 Aug 07
I had no clue that story would end up at KFC..lol, great day, great creatures.

• United States
6 Aug 07
Girls after my own heart,lol! Bright Blessings as well.:)



• United States
5 Aug 07
I am falling in love with English country Doll. When I come to Scotland to see my daughter and sister in Sterling we will all have to come to visit you for sa guided tour...I am a dreamer but from dreams comes action ....See you someday Honey. xoxoxoxoxoxo

•
5 Aug 07
There's loads of history in the Scottish countryside too, my dear friend. Mummymo lives on an old battlefield, in Stirling, and has great stories about the castle. There's great history of battles between the Scots and the English... some portrayed by Bernard Cornwell. It's a lovely country which I have never visited... yet, anyway. I would love to go there. Whichever way... you are quite welcome to a tour of our northern parts. I fear the south would be rather too far to travel, but we could perhaps meet halfway, in Whitby, or maybe even York... both full of history and intrigue. Brightest Blessings my friend. xoxox


• United States
5 Aug 07
I never knew that jewelry came alive until I started looking closely at bugs and insects. They are beautiful, and have spectacularly rich colors. Not just dragon flies and butterflies, but little crawly beetle bugs and leaf hoppers as well. I am constantly amazed at the life around us. I bet you guys had a wonderful time. I enjoyed the stair picture, it reminds me of some caves we visited and woods, two years ago, about six hours drive from here.I can smell the cool dampness now.

•
5 Aug 07
Oh boy... you just reminded me of Old Mother Shipton's Cave in Yorkshire, and the Petrifying Well. lol. I might just have to write about that soon. ha ha ha. Yes, there are some beautiful colours in nature. I think what you call leafhoppers, must be the same as our grasshoppers. We saw a few of those in the woods too. lol. Brightest Blessings.