Who is uncle tam?

Pakistan
August 5, 2007 6:47pm CST
Who is uncle tam? and why the people of the world call him uncle tam?
3 responses


• Philippines
6 Aug 07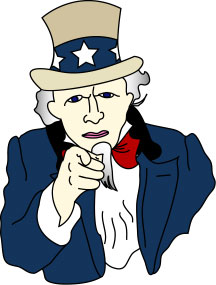 If you mean Uncle Sam, he is a figure symbolizing the United States, and is portrayed as a tall, white-haired man with a goatee. He is often dressed in red, white, and blue, and wears a top hat. The exact origins of Uncle Sam as a symbol for the United States are unknown. But the most widely accepted theory is that Uncle Sam was named after Samuel Wilson. During the War of 1812, Samuel Wilson was a businessman from Troy, NY that supplied the U.S. Army with beef in barrels. The barrels were labeled "U.S." When asked what the initials stood for, one of Wilson's workers said it stood for Uncle Sam Wilson. The suggestion that the meat shipments came from "Uncle Sam" led to the idea that Uncle Sam symbolized the Federal Government and association stuck. In 1961, Congress passed a resolution that recognized Samuel Wilson as the inspiration for the symbol Uncle Sam. Source: http://bensguide.gpo.gov/3-5/symbols/unclesam.html If you really mean Uncel Tam, it is a Chinese restaurant located in Hayward, California.

• United States
6 Aug 07
I have never heard of uncle tam. Did you mean uncle sam? If so uncle sam is like a mascot for the united states. Something like a mascot at sports games.