Monalisa, paintings..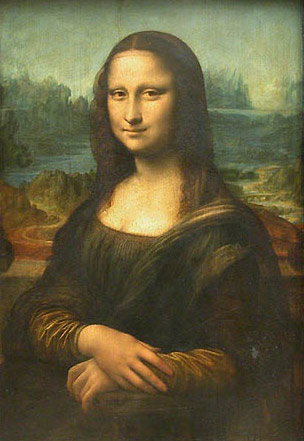 India
August 7, 2007 9:58am CST
look at it.. it does not look anything great.. but it has become famous for some reason.. the lady int he painting is not beautiful.. but the histor behind this painting is very intresting. Mona Lisa, or La Gioconda (La Joconde), is a 16th century oil painting on poplar wood by Leonardo Da Vinci. It is arguably the most famous painting in the world, and few other works of art have been subject to as much scrutiny, study, mythologizing and parody. It is owned by the French government and hangs in the Musée du Louvre in Paris. The painting, a half-length portrait, depicts a woman whose gaze meets the viewer's with an expression often described as enigmatic. It is considered to be Leonardo's magnum opus.
1 response

• Romania
7 Aug 07
The best explanation about the quality of this painting (Gioconda's smile) is the one I read on www.chucknorrisfacts.com (this is not a referral link, it's a site I strongly recommend if you want to have a laugh). It said: "Do you know Mona Lisa? Chuck Norris gave her that smile..."