Why girls like chocolate and roses?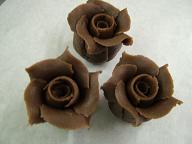 India
August 10, 2007 3:12am CST
I thought a lot and still that why girls like chocolates and roses? Can any of you tell me?
6 responses

• Malaysia
10 Aug 07
I gues,the girl like 1'chocolate-because they cannot buy the chocolate for they own. (JUst kidding) -because it is a simple valueable gift 2.roses-because it shows that we(man) love them very much -because hard to find any sweet and fragrant flower other than roses -rose always exist in love poem!

• Philippines
14 Aug 07
In my opinion, its not really about the roses and the chocolate. Its the fact that the guy is willing to spend money to get you something, means that you are of some value to him. Girls...dont you just hate it when guys like to take take and take? and your the one doing all the giving?

• United States
10 Aug 07
well to me chocolates are very sweet,and i do love them.but when it comes to flowers i am such a mush.flowers are so beautiful,and they smell so nice,and when i get flowers from my husband it justs puts a huge smile on my face and makes my day so much sweeter.also i love when i get a surprise at my door every once in awhile,and their is a man at my door standing their with a dozen of beautiful flowers,and they are for me.it makes me feel special that my husband or someone actually took their time out to send me these beautiful flowers.but whats more sweeter than that is my husband will have my 3 young babies go into our yard and pick some flowers for mommy,and they all hand me them,and say i love you.i think getting flowers that way is more special,because they all took their time to make me a boquet of flowers.

• Philippines
10 Aug 07
hi kage2k3! :) Chocolates are great! They are really sweet. Hmmm... And roses make things "fresh" and beautiful. You can also add a personalized card, to say what is really in your heart. Coz there are men who can't say "the words they had practiced" when they're already in front of the girl. :) Take care, good luck with the girl you're courting and God bless! \(",)_

• Philippines
10 Aug 07
hi! i'm a girl bu to tell you this, i don't like chocolates but i do love flowers, roses and tulips in particular. i also don't know the secret of these chocolates and roses tandem. hehehe... maybe, it's the nature of almost all girls to love chocolates and flowers especially when someone is courting them. but me, roses would be enouugh for me coz i'm not really fond of chocolates..

• Philippines
10 Aug 07
Because chocolate is sweet...and roses are beautiful flowers...When you give that to girls...I am sure you're on the first base then...just like my husband did to me...hehehe