Does your dog dream?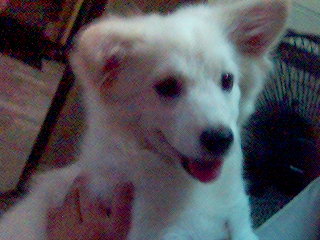 Philippines
August 11, 2007 9:23am CST
This is really funny but I think my dog dreams. I don't know if its really dreaming for dogs but it really looks like it. While my dog was sleeping I heard her barking softly. I thought she was awake but when I looked at her she was still asleep. Have you experienced this with your dog? or with other pets if they do this too?
7 responses

• Canada
11 Aug 07
Oh yes i believe they dream.I have a mixed pomerarian and she sleeps in our bedroom on the floor on "her" special mat,covered with a blanky.Spoiled eh?We wake up in the night,probably 2-3 times per week listening to her low growls,whimpering,huffing and howling.Even the eyes are going at it.It seems like she thinks shes chasing a squirrel or cat when the leg starts moving.One night there was a loud howl and it scart me because i didnt know where it came from because i just woke up from a "good" dream that i was having.I believe that when they do alot of running and playing during the day,they about what they did sometimes.Just like we do.

• United States
5 Jun 08
OMG my dog is doing it as I type this. She is laying here sleeping and kinda growling and then whimpering a little. It is the funniest thing ever. I wonder what she is dreaming about? The neigbors cat? Dog treats? Ha!

• United States
11 Aug 07
Oh yes, I remember, Dana, our beautiful dalmatian. She would be sleeping and next thing we know, her legs are moving and moving fast.. We would say she is chasing that rabbit that she can't catch when she is awake..

• United States
11 Aug 07
Yes my dogs dream..sometimes they twitch, sometimes they growl or bark and other times they whimper so WHAT they dream varies much like with us..My cats dream too come to think of it


• Singapore
11 Aug 07
Yeah, I think that dogs do dream. I know that sometimes our little pet dog lies down and barks at the same time. At first, I too thought he was wide awake barking at something or someone. But when I looked closely, his eyes were closed and yet he was barking. It seemed very much then that he was probably dreaming about something. Very much as if he was sort of 'sleep barking' in his sleep. Really cute! :)