I wish I had a dog!

United States
August 11, 2007 10:02pm CST
Oh how I wish I could have a dog. I rent an 2-flat an they are forbidden. To make matters worse, my other half is seriously allergic to both, dogs and cats. So, when ever I come across a dog in particular, more so then a cat. I go all ga-ga over them. That applies to pretty much to ALL dogs. I've tryed to convince my other half to take an allery pill for it but, he wont....
4 responses

• Canada
15 Aug 07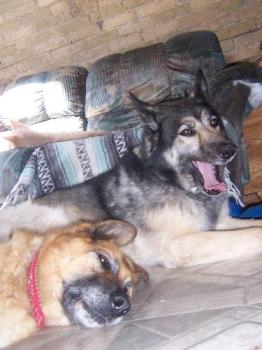 It really bites when you love animals and cannot have any...my heart goes out to you. My hubby and I have 7 pets...2 large dogs and 5 cats and they enhance our lives in every way. Hopefully you will find a solution to your allergy and living arrangements so you can eventually have a pet of your own. It is highly recommended! Pet owners are known to live longer, be happier and healthier (allergies notwithstanding.) I have posted a picture of our dogs. Tasha is the tan colored 15 year old Lab/Shepherd cross. She will be sadly missed when her time comes. Cherokee is the Shepherd/Husky male. He is around 7 years of age.


• Canada
12 Aug 07
I hear ya there. I also rent and dogs aren't allowed. I would like to have a smaller dog, not the big breeds. I do have cats though and love them very much. My daughter and I have allergies to them but only mild that I use over the counter allergy meds for.