The Trojan Horse.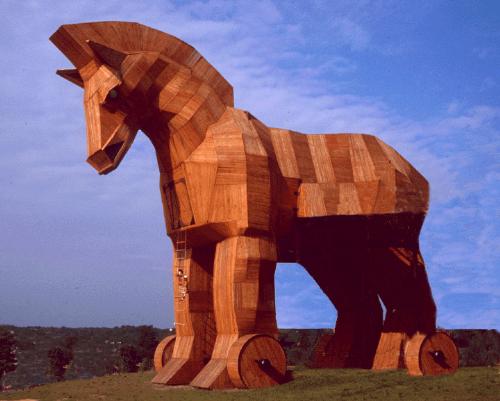 Sweden
August 14, 2007 10:31am CST
I think it was on saturday I get a trojan in my computer and it was a new one spred around the net, I hate this who do this and I wounder why they do this, they cant make any money on it. Today I finaly get it away from the computer after many mails to microsoft and a lot of difrent programs testing and scaning my computer they find out a way to get rid of it. If you get something like this in your computer do you contact microsoft for help or do you try to fix it by your own? I think microsoft hawe a greate suport for virus they anser wery fast on my mail.
10 responses

• Malaysia
15 Aug 07
Hello matte5, I have no problem with computer *smiles* No, I don't know anything about computer but I have a good husband who seems to know almost everything about the computer. He is a programmer and well, I always depend on him whenever I have problem with my personal computer. He will definitely take care of it as his own work depends on the computer itself. But right now, he is away and so whenever I have problem (lucky it is always a small problem that I can solve it myself) I will try to do whatever I think is the right thing to do : scan and get rid of those spywares, adwares, viruses and so on *laughs*

• United States
15 Aug 07
I've had problems with one for a week or so. It is identified by my security program as Trojan.emcodec and the program quarantines it and I have to restart the computer. The trouble is it hides somewhere and keeps coming back and it is a nuisance to restart sometimes when I am in the middle of something. I usually get it once or twice a day. I keep putting off contacting my security program provider or Microsoft because that will also take a lot of time. I guess I will have to make time soon though. Thanks for your advice about how helpful Mircrosoft was for you.

• United States
15 Aug 07
I've never heard of the Trojan Horse virus. I've never had to contact Microsoft for anything like that before. I had one virus scan system on my computer and it found one and it kept popping up that I needed to remove it, but it would only remove the the virus if I bought the upgraded version. No help there. I removed the program and bought another one and it worked so much better. I'm sure Microsoft offers good help. Did the problem get fixed?

• Philippines
14 Aug 07
I got several trojans before when my internet connection is new. I wasnt so much aware about what it is then that is why I had been a bit careless in using the computer. I am glad that I had a very good anti virus software now that could easily detect and eliminate Trojan Horses. I love the trojan horse in Troy but definitely not these trojans.

• United States
14 Aug 07
Unfortunately, matte There are some really mean and sick people online and on the Internet just to make life miserable... hopefully they didn't damage your computer badly. Most of the time, I'll get rid of the bugs on my own with the help of some good malware removal: http://www.spybot.com http://www.grisoft.com But the best way is to keep away from suspicious sites with the help of experts: http://www.stopbadware.org Always be aware that your growth and experience on the Internet will allow you to avoid most threats and the Security if the first and foremost Internet skill to develop... doing this helps to protect everyone... I hope that your Internet experience will become much more enjoyable in future days, don't worry too much abou the bad stuff... we all have to go though it to learn what to avoid. Have an excellent day! :)

• Sweden
14 Aug 07
Hello. I do get rid of the bugs of my own most of the time or its stopped by my firewall but its hapeds that it get throw it and i can scan and fix it with windows defender. You are so right in that we all hawe to go though it to learn more and I dont hawe bad experince of the internet I am working with it all days my computer is on 24/7 and I think the internet is something greate. Hawe a nice day.

• Laos
18 Aug 07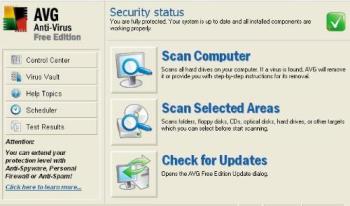 Free AVG program is very good to remove trojans. I have no problem with that one when I installed it for use.

• India
15 Aug 07
kaspersky's new antivirus is grat, i use it and the day when i installed it i didn't get any virus on my computer

• Malaysia
15 Aug 07
Stop having this problem when I switch to Mac OSX. My main desktop machine runs Linux. Give Ubuntu a try.

• United States
15 Aug 07
I do try and get rid of bugs on my own by using various programs first. If that does not seem to work, I will call contact Microsoft or some other company that can help me with the removal of the virus or worm or spyware. To avoid these kinds of viruses, stay away from unknown websites and also do not open emails from people that you do not know. Glad to hear that you were able to get your computer fixed.

• Philippines
17 Aug 07
In the first place, I hated those programmers who 'invented' these viruses, plain technology business solutions. They get money from them because we purchase the anti virus tools. Good that I have installed a free version of AVG and it killed the trojan horses that slipped through my pc. I tried to download a file the other day when AVG flashed a warning that there was threat! I tried to heal the virus and it's gone now. There are actually specific anti virus programs that microsoft recognizes. I tried the COMODO antivirus but microsoft does not utilize it. I always get this warning that my pc does not a have a firewall and antivirus installed. So I have to re install my AVG.