I need suggestions on a good camera to use to post my Ebay listings

United States
August 15, 2007 4:58pm CST
I just list a couple of items on Ebay, and the picture quality is not very good. I use a Kodak Easy Share camera. What type of camera should I be looking at?
2 responses

• United States
16 Aug 07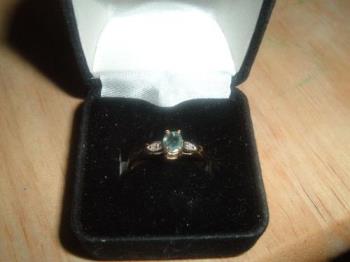 I make and sell jewelry so I had a very hard time getting clear pics as well. I have a fuji digital camera, you really need to invest in a digital camera, but really didnt know what i was doing. Then I got some wonerful tips from users on here, and the most popular opinion was to use the macro option on the camera. Well after finding what the macro option was, I used it and the difference was amazing. I have retaken most of my inventory and it alleviates all the questions for better pictures. This is a pic of my alexandrite ring,just to give you a idea of how well it worked

• United States
17 Aug 07
I don't know what is a macro option, but I will try to figure it out. I think its probably me not doing a very good job with the camera I have. I am going to retake pictures of my inventory. I have only about 9 things listed so far so it should not be a time consuming effort. Your jewelry are beautiful, I check your Ebay Store a couple of times.

• United States
17 Aug 07
I am sorry I forgot to tell you macro is usually a flower symbol on your camera. I didnt know either a poster had to tell me. Thanks for the compliments. I hope it works out well for you