Solar Panels versus other forms of getting energy

United States
9 responses

• United States
29 Oct 06
It is more pressing that we are fast depleating the fossil fuels and have great need to find renewable power sources. Solar and wind power are very promising. There are also bio-fuels that can be used with diesel engines with minor adapting to a pre-heating unit so that your vehicle will run on vegitable oil. I understand if you use recycled oil from a restaurant your exhaust actually smells like french fries. There are also companies out there who will use solar/wind power and things like hot water on demand devices to make your home more environmentally sound.. and one of the packages also includes the production of your own hydrogen and hydrogen fuel cells for two vehicles. I think the positives outweigh the negatives and we must move away from reliance on fossil fuels and non renewable power sources. There is also a new wind generator that is tethered and uses helium to achieve the height for optimum performance.. they will go into production next year. The sort of look like a space age blimp, and their shape causes them to turn into the wind at the best angle to generate power. I think the biggest one is supposed to take care of the power needs for 75 homes. (the only disadvantages I see to this particular one is the weight and size of them... if they lost the helium quickly they could cause some damage.. but then NASA keeps sending stuff up into orbit to fall back down on us.)

• United States
29 Oct 06
Neat! Do you have any links for pages that have info on the wind generator?

• United States
2 Nov 06
Yes, this is my second attempt to post the urls, dunno what happened the first go. http://www.magenn.com/ is the tethered wind generator going into production next year. You might also have a look at http://krystal-planet.com/prodserv.asp as they currently have packages to change your power consumption.. and generate your own hydrogen fuel along with hydrogen power cells for two vehicles.

• United States
2 Nov 06
wow! Thanks for all the great information!

• Singapore
16 Dec 06
Solar panels and solar cells are too expensive.They cause over thousands and thousands of dollars and the energy that they absorbed is not enoguh to power up my laptop!let alone the whole house.

• United States
18 Dec 06
The solar arrays can and do power houses and larger business buildings right now. There are also companies coming out that allow you to use the solar panels for free, and pay under market rate for the electricity produced.


• United States
29 Oct 06
Where do you live? Do they have any rebate programs there? Did you decide to get the system?


• United States
29 Oct 06
In the US the government already gives tax breaks for buying hybrid cars. In Austin the energy company even rebates you a large portion of the cost for buying solar.

• United States
26 Oct 06
You need a lot of surface area that faces the correct direction as well as a lot of batteries to make solar really feasable... I'm not sure what other renewable energy options are out there... anyone else?

• United States
26 Oct 06
Most types of self-energy generation will require batteries for storage unless you are hooked into the grid. Solar doesn't require batteries if you have grid access. The batteries are the expensive part.

• United States
7 Dec 06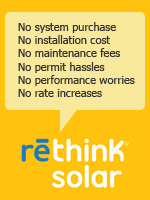 You should try..... Price is right http://renu.citizenre.com/nontoxic Solar power goes mlm - solar system free to customer - free to join Now a 10 Billion Dollar company is giving away Solar Power Systems [Cost: $40,000 + to purchase] so they can be the new utility for the customer. 1) Client does not have to purchase system or pay for installation! 2) There new energy rate is locked like a fixed mortgage[won't go up] for life of agreement[up to 25+ years= massive savings over time] 3) There new rate is guaranteed to be the same or lower then existing power co. [Many customers will have lower monthly bill month one] 4) No Installation Cost or Maintenance Cost to Customer 5) Nationwide with International Expansion in the Horizon 6) Many other unique products including wind systems coming! FREE TO BE A DISTRIBUTOR!!!! http://renu.citizenre.com/nontoxic Citizenre lets you put solar power on your roof without having to purchase an expensive system. Why risk investing thousands of dollars when you can enjoy the same benefits with no risk? We design the perfect fit for your home. Never over-engineered, so your PV system meets 100% of your needs and looks great! Our performance guarantee means that your solar system will be online all the time. If not, we provide the maintenance free of charge, and you don't pay for it to just sit there. What's more. Our offer means you avoid those never ending rate increases. A penny saved is a penny earned! Solar energy is safe and smart; and if it means that you are helping our economy, our national security, and our environment, then isn't it time to rethink solar? Visit our website today. I look forward to helping bring solar electricity to your home.

• United States
10 Dec 06
Actually, I checked into this and sent an e-mail to the sales manager there. I haven't gotten a response. The part of this I like is the referral rewards. Living in an apartment community (at least until we get our house built) means we cant' actively use it right now. That's the big problem.

• United States
11 Dec 06
Thanks for the info. I'll look into it further when I'm feeling a bit better. :-)

• France
9 Dec 06
Solar heating (of pipes with water in them often) is very low tech and highly effective, and that seems to be one of the best ways to use solar power. Photovoltaics do work, but some reigons are more viable than others and as already mentioned you need storage if you arent using all the power at once

• India
9 Dec 06
it is environmentally viable but not economically possible

• United States
10 Dec 06
Thanks for the input. I'm hoping some of the other folks on here see some economically feasible variations.

• United States
10 Nov 06
Well, I was watching a real estate investment show and the people wanted to put solar panels on their house before they sold it. The real estate expert told them they wouldn't get a return on their investment. Maybe they aren't widely accepted yet?

• United States
10 Dec 06
They aren't widely accepted yet due to the major investment due up front.