chinese roasted pork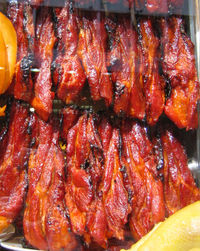 Philippines
August 17, 2007 6:20am CST
i saw this roasted pork in chinese restaurant hanging in the glass display, it is sold by kilo, i bought and try it it so delicious i like to have recipe of this any suggestion? have you eaten roasted pork?
5 responses

• United States
19 Aug 07
Where I live, there is a community of Chinese people. For me, that is the best place to get roast pork. To try to make the same thing at my house would be impossible, because like youless said, a special oven is needed. There are some Chinese restaurants in my area, but the way they make it there is not as good as what I can get from the Chinese community. The special oven needed to cook it is probably around 7 feet or 8 feet from the floor. I think that is over 2 meters to less than 3 meters tall. I also do not know what ingredients go into the sauce they use to cover the pork with that gives it that special flavor. However, the raw pork gets covered with the special sauce before it goes into the special oven.

• United States
20 Aug 07
It probably depends on the size & shape of the pork you are using. Most of the time, the pieces of pork are long, probably a few feet in length (over 1 meter long). After the pork is covered with the special sauce, a skewer rod goes through one end of the piece of pork so it can hang off it in the oven. The skewer rod is placed on hooks that are hanging from the top of the oven so the pork can hang inside of it to roast.

• Guangzhou, China
17 Aug 07
I am from Guangzhou, China. The roasted pork you mentioned are very common food here:) I am glad that you like it. We don't make it at home because it may need a very special oven.


• United States
23 Sep 07
I was about to say the same thing, it does look really good.

• China
22 Sep 07
almost all the chinese food is yummy.it's true