can't get enough of futurama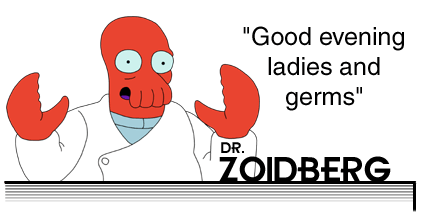 Malaysia
5 responses

• Canada
16 Oct 07
They need more episodes with Dr.Zoidberg in them. I mean, hes not one of the 'main attractions' but hes hilarious. Back in the episode where the Doctor had to choose between A life withought 'you know what' or whatever would happen. That was one of my favorites and I think they should make more off them! Dr.Z all the way!

• Malaysia
16 Oct 07
i think the producers need to really think hard for a good joke for ziodberg . coz each time he does something funny , it really hits the spot . lol he is the undiscovered gem in futurama , no doubt bout that .

•
10 Sep 07
I own every series of Futurama and I love it! Zoidberg is by far the best character. He definatly makes the show more interesting. I doubt i would like the show half as much if Zoidberg got cut out.

• Tuvalu
29 Sep 07
he is so "dumb" that what leela say sometimes because everyone degrades him but i love him he is really funny if he did the show would not be likes any more thats right on that question

• United States
27 Aug 07
he is probably the funniest of them all, its so funny when somebody says something and he cries and runs away...ROFL!

• United States
20 Aug 07
I love Dr. Zoidberg. He is such a great outlet for humor. In fact, I almost laugh everytime he says something. I also think it's funny how much he loves all the other staff members, but they don't seem to care that much about him either way. Having him as an alien on staff as well really lead to some great episodes like the one where they go to him home planet. One of my favorite episodes that focuses on him is the one where they try to find out who broke the bottle. I also love how he is a terrible doctor. A friend of mine was him for Halloween one year and everyone loved his costume.


• Malaysia
24 Aug 07
yes , i agree . he is like everyone's scape goat. and the way he hurries away and walks sideways is funny :) . makes an identical sound from the 3 stooges.