Superbad OMG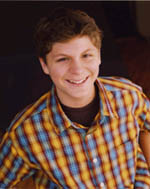 United States
August 18, 2007 8:20am CST
Did any of you see Superbad yesterday?? I didn't get to go because my boyfriend had to work at 6:30 this morning, so we are going tonight and I CAN'T WAIT. OMG U GUYZ. SrSlY. Okay, but really, I have been waiting to see this since I heard about it. Plus my (real) boyfriend is in it. Can you believe he wouldn't add me on myspace like 3 years ago? Oh well, I heard there is a guy who works at ABC Warehouse and looks exactly like him. This is all beside the point. If you don't care about seeing this movie, in this discussion tell me what is wrong with you.
8 responses

• United States
18 Aug 07
I want to see it also but didn't- Last night we watched High School Musical II- My 10 year old and me- I'm planning on seeing it this coming up weekend- It looks fantastic and funny! super funny!

• United States
19 Aug 07
Yeah, it was pretty hilarious.

• United States
10 Sep 07
I didn't see it yesterday, but I didn't see it too long ago. It was quite an amazing movie. I'm sure by now you have seen it and it's amazingness. I honestly didn't think it would be as good as it was. I was laughing and laughing, and laughing some more. That movie, would not help me to stop laughing. I mean, even for some of the actors as a first-time role in a movie were amazing. As for the other ones, they've gotten better since their past roles in other movies & it's just a lot of fun to watch. Anyone who hasn't seen this yet, go see it! You should like it from start to finish.. just make sure you're prepared to laugh! Then again, if you're going to a comedy movie and aren't even the slightest bit enthusiastic about laughing, why're you going in the first place!!

• United States
18 Aug 07
Honestly I did not know this movie was out. First time hearing about it, since I don't often watch tv. The only time the tv is on is when my husband is home, and even than I don't pay much attention to it, unless my husband wants me to watch something with him. May have to go and see Superbad, but I'll have to see what all my husband is up for later on this week.

• United States
18 Aug 07
Girl, I will take you right now! Get ready!

• United States
18 Aug 07
LOL! Sounds like a plan to me! Will be ready shortly. :)

• United States
11 Sep 07
I haven't seen it... I wish someone who did saw it and liked it would tell us WHY, aside from that it's funny. What made it funny? Anyhow, I doubt I will see it until it comes to DVD. We live on a farm and have lots of animals to tend to, and don't get out much. So when e do, if we are going to blow $20 at the movie theatre, it BETTER be good! Mind blowing, earth shattering, of high moral and social import kind of good.

• United States
14 Sep 07
You know, it was a good movie. Very funny, but I would wait for the DVD if I were you.

• United States
19 Aug 07
I guess my head is in the sand because I do not know what movie you are talking about. I do not go to to many movies so I do not keep up. Sorry I guess if I kept up I might want to see it.

• United States
19 Aug 07
Well, teapot, get with the times cause that movie was great. ;)

• United States
19 Sep 07
i want to see this movie forever, but i havent get to it yet, maybe when it come to the cheap theather, because now i work late and i dont get done till 9:30 and most of the show time for that movie is earlier. so i watch it when i get to it other wise i can always get it on dvd