who is more better a male or female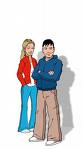 4 responses


•
21 Aug 07
yes dear i also think that both are equal. thanx a lot for ur reponse

• Philippines
19 Aug 07
well i dont think we are equal.... but not in a negative way. there are things that women only can do and there are some that men only can do. we both are in this world to help each other.

•
19 Aug 07
yes dear ur comment is absolutely correct both are not equal but equally important, and both are made for each other thanx a lot fir ur response


•
19 Aug 07
thanx 4 ur response yes dear i do agree but dont u think that there is not a equallty. we are divided on the name of cast, relegion, colour, gender...........