Would you like to FLY as a bird in the sky?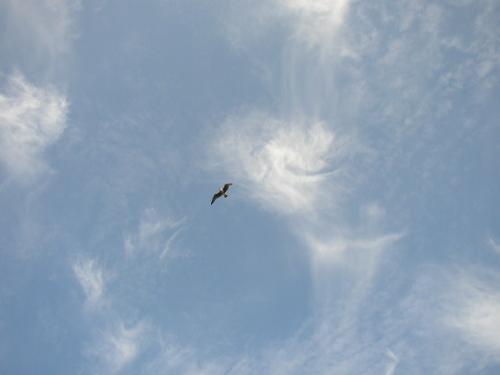 Netherlands
August 22, 2007 6:24am CST
Check out the picture, as while I was taking it I was wishing to be able to fly as high as the albatros, and be able to fly wherever I wished to, and feel free as the bird. Do you have this also when watching the birds flying high or taking photos of these?
8 responses

• India
22 Aug 07
i would loveeeeeeeeeeeeeeeee to. apple.

• Netherlands
22 Aug 07
it would be so nice if we could do it anytime we wanted :)

• India
22 Aug 07
we could do away with our passports and visas too perhaps. love, apple.


• Netherlands
8 Sep 07
Hi Lifeless, thanks for responding, and yes, I wish the day will come when we could have our own wings to use when needed, :)


• Netherlands
22 Aug 07
This is an other valid point, however i am convinced that the IRS will make a new tax when some, and later most of us would be able to fly around :)

• United States
22 Aug 07
There are times I do wish that. Sometimes it looks so peaceful and quiet in the sky I think it would be nice to go up and get away from the rest of the world for awhile. Occassionally I will dream about being able to fly, and it feels very real until I wake up.

• Netherlands
22 Aug 07
Hi Gipsylady, thank you for replying :), and yes, I have had such dreams too, and one time it was more tha a dream, actually I believe it was an EFT expirience :) but who knows, in nay case there is more, much more between Heaven and Earth than we know off :)

• United States
22 Aug 07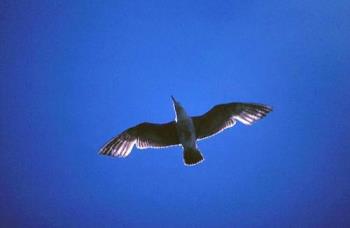 You hit upon one of my great loves...next to cats that is...birds...Years and years ago, I had read that book Jonathan Livingston Seagull..then a few years later I got the movie base on the books, and nearby me for awhile I took so many pictures of the seagulls that were flying around...I even studied bird biology and photography through a home study course...Of course my early attempts in photographing gulls in flight for awhile there looked like strange UFOs..LOL But I would be in awe of watching them fly, and wow they could sure fly high Thought I'd share one of my gulls in flight shot--Love gulls...love birds!!

• Netherlands
22 Aug 07
Thanks for jumping in Pyewacket, and a very nice shot the seagull of yours :) I was fascinated with ravens - when I found out that ravens are the most intelligent among the birds...very surpricing after all as I thought eagles were the"king among birds" :), But I was considering to buy myself a raven and have him/her in the garden, however - this wasn't possible after all. Than I was totally into owls, and especially Snowy Owl, or the Barn Owl, but again - no luck, cannot have it here :( At times I wish that I had a house somewhere high in the mountains where I will be able to have such birds around me, and also take shots of the stars...but there are dream for, right ;)

• United States
23 Aug 07
Thanks ever for the best response! ah--you hit a nerve with owls....I would love to have a snowy Owl myself...I love owls to begin with, but every since I saw the Harry Potter movies now I'd really like one...LOL

• Netherlands
23 Aug 07
yeah, HP films, lol, wouldn't it be nice to have his owl huh ;)

• Netherlands
8 Sep 07
hehehe, balasri, LOL, we do that already with delta's and airplaines, but I still would like to have the wings when needed, like, pushing a button and the wings are there when needed :)

• United States
22 Aug 07
I often think of how nice it would be to fly. Like many, I've dreamed about it before. But then I think of being hit by bugs, other birds, and pollution when I fly. I mean, that's what real birds face, not to mention airplanes. If I could be encased in a germ/bug free suit, I'd be ready to go. : )

• Netherlands
22 Aug 07
Hi AmbiePam, you might be right about the germ/bug free suit, but I have never thought about it, until now :)

• Singapore
22 Aug 07
I do not go bird watching. However, I often dream I can fly. I am always flying across buildings, up and down across fields. What people used to say "You dream what you think" but I certainly hope it is the reverse. You think what you dream. How I wish in real life, I too can fly like in my dream. lol.

• Netherlands
22 Aug 07
Sounds good to me too Whyaskq, and maybe one day it would be possible, who knows ;)