Could a bouquest of flowers substitue the words I LOVE YOU for you?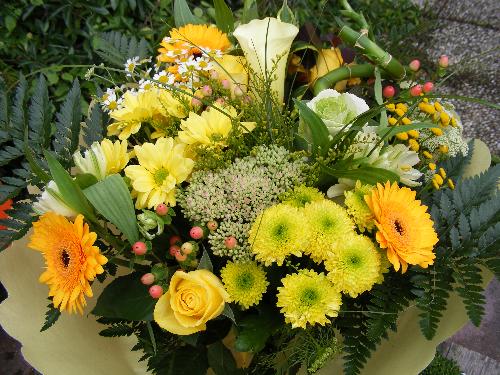 Netherlands
August 22, 2007 11:18pm CST
Most of you know that we woman adore to hear that we are loved, and that for most of us it is imperative to hear often "I love you". Instead of telling me this, my partner gives me a nice bouquest of beautiful flowers, like the one on the photo. He gave me the bouquet yesterday when he got home. I loved it as it is a very beautiful one, and the flowers in it are simply gorgeous, so I took many photos of it too. The thing is that I still long for the "I love you" words. Friends call me crazy, and say that they wish their husband, partner, boy friend would spend often for a beautiful bouquet for them instead of repeating the I LOVE YOU mantra. What do you think? And what would you prefer yourself? The words or often a beutiful bouquet?
2 responses

• Philippines
28 Aug 07
Hello!With my husband, the words "I love you" is like waiting to rain in a desert. When he gave me a bouquet of white roses, it was when we had a bad argument that ended up with me crying. He knew that his words of apology won't be enough. So he usually does that. And he knows that no matter how mad I am with him, my anger quickly vanishes when he gives me my favorite flowers. And when he does say those three little words, I honestly get goose bumps!

• Netherlands
28 Aug 07
Hi Jcj, and yes, if guys could only communicate as good as we can - everything will be much easier for us, hey? About the goose bumps, I agree with you about these when you finally hear the words once in awile at least ;)

• Canada
24 Aug 07
Although the bouquet is beautiful I think I would prefer to hear the words . It would be nice to recieve a bouquet once in awhile as my husband would never think to do something like this but I wouldn't give this up in replace of him telling me that he loved me . Have you told your husband how you feel , maybe he finds it hard to say how he really feels or finds it hard to express himself and this is why he gives you the flowers ?

• Netherlands
24 Aug 07
Hi Sam, Thank you for replying :) And sure I have told him many times that words would do it and maybe even better than the flowers, but he simply loves to give me bouquets, and hates to say the "I love you" words...he'd rather cook me dinner, bring me to the moovies, buy me whatever he knows I'd like to have, and the bouquets are what I get more often than the rest. A jealous GF of mine said - "well, maybe he is trying to cover his guilt with all the flowers he brings to you"... and I asked her, "what guilt"? And she said - "maybe he is having an affair"? Well, I don't think so, as he is each and every day at home within 15 minutes after his job is done, and never goes anywhere without telling me where he goes, even if I dont ask him to tell me. He never goes missing for several hours, or days etc. Oh well, I am 100% sure he is true and loyal just as I am :)