Exactly How Many Elvis Presley Impersonators Are There???????

South Africa
4 responses

• United States
24 Oct 07
Too many. IMO...no one can even come close to the real Elvis Presley. I certainly understand how many people would want to sing and look like him.

• United States
26 Aug 07
There are too many out there to count with new ones born everyday. I saw the King live in Memphis when he was still young, cute, and dreamy. I also saw them bury him. So May he Rest in peace.

• Australia
23 Aug 07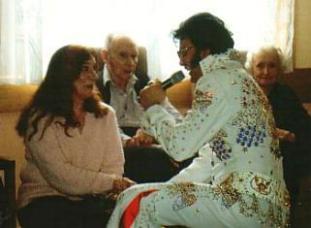 there must be thousands but not many good ones, I used to volunteer in a Nursing Home and we told this Elvis impersonator rang up and offered his services to put on a show for free, I thought I bet he will be a fat man, when he showed up I nearly fainted he was gorgeous and so good and he went around and kissed every lady in the room and shook every mans hand, and gave long stem roses out, he was wonderful...