Penpals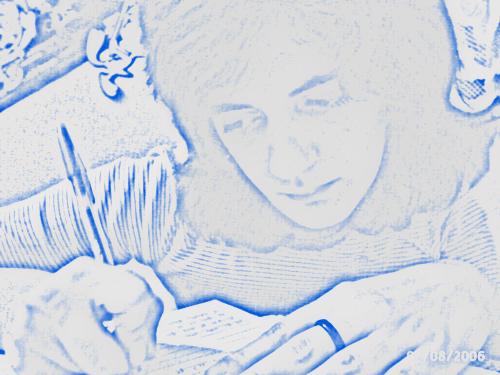 9 responses

• India
23 Aug 07
yes i do, i have soem penpals , some whome i havent met but they are in my prayers and i in theirs. what else is life except prayers. love, apple.

•
23 Aug 07
Mmmm... life? :) Wanna be my penpal? :)

• India
23 Aug 07
sure super star ! you ask and i refuse ! that would be stupid of me, you know why ? you know why ? because i might be missing a super tar of the future. love always and smiles, apple.

• India
23 Aug 07
its not super tar. its super star. sorry for the mistake, i rushed to correct the mistake or thought you would just blast me saying "what ? me tar? you idiot. enjoy super star.

• United States
23 Aug 07
I had two penpals in elementary school. One was from Oklahoma and I can't remember where the other one was from. I didn't keep up with them after 3rd grade and I wish I had now. It would be interesting to have a penpal again.

•
23 Aug 07
I still have one, Iulia :) For 5 years now. And I met her boyfriend, slept at his place :)) But never her. It was always a bad timing :(

• Philippines
6 Sep 07
My husband and I started as penpals before we got married, wayback in 1998, my cousin who used to be my husbands' co-worker is the bridge why we became penpals, my cousin gave my picture and address to the man who was my husband now, and my husband immediately wrote me a letter, i didnt expect of course receiving a letter from an unknown person but in his letter he explained where and why did he got my name and address, so in respect for my close cousin i responded to that letter, until the time came and i noticed that we almost have nearly 10 letters exchange and one of the letter was sealed with his and my picture inside. That's how our relationship started, but he didnt court me thru letter, when he got home he ask me if he can visit me to my house and that's it, he started visiting in my house and even in my office, since he is a very nice guy when he courted me I accepted him to be my boyfriend, and now we have our 5year old son (ah nearly 6years old on december) and on december 8 we are going to celebrate our 8th anniversary as husband and wife. I can say that i found my perfect and ideal man in him, our relationship was built in a very strong foundation. We love each other so much. Actually my husband keeps all the first memories of us, first letter, first flower that he gave me that I refursed to receive but still he keep it and even the first ticket in the basketball we used to watch, and so many other memory of all the first's that we''ve done together, and I compiled it in our friendster account. That's how our lovely story goes..hahaha

• Australia
27 Aug 07

I used to have two penpals until a few years ago when we lost touch via pen and paper and were able to see each other more frequently. Both pals were family friends that moved away and whom I wished to keep in touch with. We used to write back and forth twice a month or so, but as I got older and was able to travel to see them by myself etc, we stopped the writing. I'd love to get back into writing to them, and even some 'strangers' from overseas or even others here in Australia.=]


• Canada
6 Sep 07
I have one pen pal that I have been writing to by mail since I was 6 years old. I am now 25 years old, and we still write back and forth. I met her at my Aunt Nancy's wedding. I haven't seen her in almost 20 years. Perhaps the next time we meet will be when we celebrate my wedding.

• United States
6 Apr 08
When I was in high school, yea. It was one of our requirements in our English class to start writing and have to get an answer back or else, We will not have a complete grade!lol...I had fun on it but, unfortunately, We never met!

• United States
23 Sep 07
When I was in grade school I had a couple that we had gotten through school that were in other states. I also had a couple that I had gotten through the church that I was going to that were over seas. When I was older I got involved in prison pen pals which was through the church as well. I do still write letters to family and friends. Nothing says I love you better than a hand written letter from a loved one.

• United States
19 Sep 07
I've always had a pen-pal or two (or more) since I was about 10. I've lost track with many over the years, but currently have 3. I've never met them irl, but that's OK. It's still fascinating to learn about people's lives in other parts of the world & to have actual letters in the mail box.