Pay to get a JOB?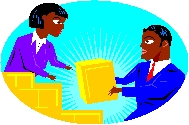 United States
August 23, 2007 12:16pm CST
I can't understand why someone would pay to get a job. To me that is a scam to get your money. That is how they have a job and get paid. They never really tell you any details, just how to get other people to pay to get a pack of information to get other people...It goes on and on.
2 responses

• United States
23 Aug 07
I agree with you. I think that it is a huge scam that you have to pay someone for a job. I actually have done this before and it was a scam. I wanted to do data entry from home and was sucked into the program ending up having to fight for my $49 back. Luckily, I did get it back. Anyone who wants a job is looking to make money, not give it away.

• Malaysia
23 Aug 07
I had so many times responding to those discussion about this issue. No need to pay, just visit www.jobstreet.com and fill up the details and job specialization, if there is any will be notified by email and the interview will be held at the employer office. The employer will pay for 'jobstreet' as job consultant and there will be no such salary deduction even a single penny for that.