Do you know how to read other people's mind?

Philippines
6 responses

• India
1 Oct 07
i think its just on to make eye contact and even know about it body language and try to knew his/her way of talking . in which he/she mostly put interest.

• India
1 Oct 07
Hi, That is a skill, those hypnotism I hope they use this a bit. Still some are really specialist in this. Those sanayasinis in Himalaya is said to have this skill. Still with proper study of our body languages, our voice, our physical appearances and various other traits and qualities some are experts in reading minds.

• Philippines
14 Sep 07
How i wish.. but there are some people who knows how to read minds only looking at their eyes.

• China
31 Aug 07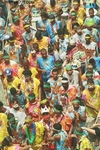 From his actions ,especially his first reaction to what you said or did,i think it's his subliminal reaction,which can help others to read his mind,if the reader is a careful one.Of course ,according to one's eyes, we can also read him. By the way ,i think ,if you know his character,maybe you can quickly read his mind. Lastly,if you have an encyclopedical insight,you can easily read his thoughts.

• China
27 Aug 07
How ? I also wanna know. An useful skill in daily communication,'cause you can say the write words at the right time.It may make your life more comfortable.

• Malaysia
26 Aug 07
i've learned not through eye to eye contact, but body and voice language. A beginner and need more to learn about it. Very interesting because the result almost 100% to its precision. Of course has to practice for every beat of the clock. How about you?