do you think dollars on toilet paper is respectful?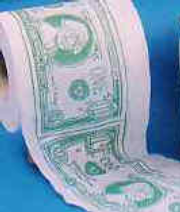 United States
August 26, 2007 10:53pm CST
Hello guys, what do you think about the toilet paper where dollar bills are printed. I personally think it's disrespectful to have such paper. It's disrespectful to people who work hard to get those money, but the most it's disrespectful to the U.S currency snd people. What do you think?
1 response

• United States
27 Aug 07
I don't know anything about that particular type of toilet paper. where is it from? do you get it here in the US. Is it meant to be disrespectful? Fill me in a little bit on this toilet paper please.