Are you afraid of needles and getting shots?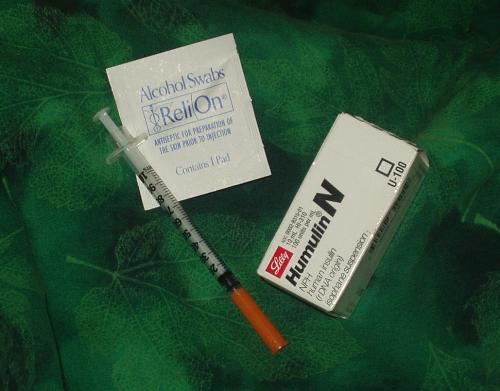 United States
August 28, 2007 2:11am CST
I know some people are deathly afraid of getting shots. My own dad gets pale as a ghost[and feels faint] when he has to have blood drawn. I find that funny! Big strong tough guy that he is! :-) I have never had a huge fear of needles but once I became diabetic and started giving myself insulin shots, I quickly lost any needle fear that I may have had. So what about you, are you afraid of needles and getting shots?
10 responses

• United States
11 Oct 07
Not anymore. I'm always doing something to get hurt and I've just accepted that getting poked by needles is a part of my life.

• Philippines
29 Aug 07
i am so afraid of needles..when i went to the hospital for my test on my goiter, they had to take some blood sample from me like about 10 cc and dang it, it made me all nervous and pail that the nurse in charge would almost laugh at me..when i saw the needle i almost pass out..he had hard time of seeing my vein because i was so nervous..it hurts like sh1t..so what i do is just tell him not to show me the needle and i'll just close my eyes and do his job without telling me..

• Canada
29 Aug 07
It is funny because I am nervous of getting a shot because I have two tattoo's and didn't mind this in the least . I am not as bad as I used to be as they used to have a nurse hold me down if they were going to draw blood where now I can sit there on my own but if there is any way I can avoid having this done I will .

• Canada
29 Aug 07
i am the most feerful of getting shots when i get my blood test and they get the needle out i turn white and i hate the feeling when they pull out the needle





• United States
28 Aug 07
I used to be afraid of getting blood drawn but not of the needle. I thought I would pass out if they took blood (This was when I was younger - a teen and in my early 20's). Now, nah, needles and shots and such don't bother me. I just had 15 shots today actually for allergy testing and it was nothing. I then had blood drawn. I don't mind the needle that gives me Novocaine at the dentist but it sure is a BIG needle. In general needles and things don't bug me. I don't like medical procedures that take a long time like cat scans and MRIs. I go nuts laying there. Give me a shot anytime!

• Philippines
28 Aug 07
Yes before I was really afraid of needle, but when I got married and got caesarian operation, gradually I lost that fear of needles. But when it comes to dentist and tooth extraction... my body really shake in fear. I guess right now that is something thta I cant overcome yet because of trauma to a dentist when i was young. So I hope I wont have to have tooth extraction just to overcome that fear... lols