Pass my Accounting Exams!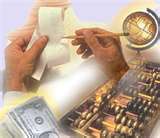 South Africa
August 31, 2007 12:33pm CST
It is strange how life can take you through phases and before you know you are where you want to be. During my school career I always avoided accounting as it seemed beyond my grasp at that time. Then I entered my career as a admin officer and pushing pen for ages but in my back mind there was something missing in my life. Until one day, a year ago I was scanning the local newspaper when I saw an advert for enrolment as an accounting clerk. Before I could wake up from a dream I was enrolled for the course. The result - a year later I ended up number 1 in the class of 13 students. That was what I always wanted to be. Life took me through various phases of my life before it let me settle down.
2 responses

• Philippines
14 Nov 07
Wow, Congratulations! I like solving, we have basic accounting but i took it only once. Although I got passing grade but it was really to difficult. To hard to solve. You are so lucky.

• Australia
12 Nov 07
congratulations!...i know accounting is a difficult subject...i love this subject..and i always wanted to learn more about this...right now, i am taking another course, but i want to continue on updating my knowledge in accounting as i always wanted to teach other aspiring accountants